SecuX Celebrating Stellar Lumens Native Supported and Give-away Hardware Wallets
Hsinchu, Taiwan, April 30 2020 — SecuX Technology Inc., a blockchain security company, is celebrating the Stellar Lumems (XLM) native supported on SecuX Web App in the real-time, reliable, blockchain-based remittance network. Each XLM account in SecuX hardware wallets will be safely stored inside the military-grade security element (SE) every SecuX Wallet embedded with. SecuX V20, W20 and W10 Crypto Hardware Wallets now may support cross-border transactions for foreign workers, international travelers or students studying abroad at higher speed, yet with lower transaction fees.
In a coming week, SecuX will celebrate the supporting Stellar Lumens (XLM) by giving away SecuX W20 Crypto Hardware Wallets on their twitter fan page (@secuxwallet). As a bonus for Stellar Lumens wallet users, who may win a 20% off from SecuX by entering the coupon code "SecuXStellar" while checkout on SecuX Online Shop.
The lucky draw giveaways and the eCoupon start on May 1, 2020 and will go on until May 10, 2020.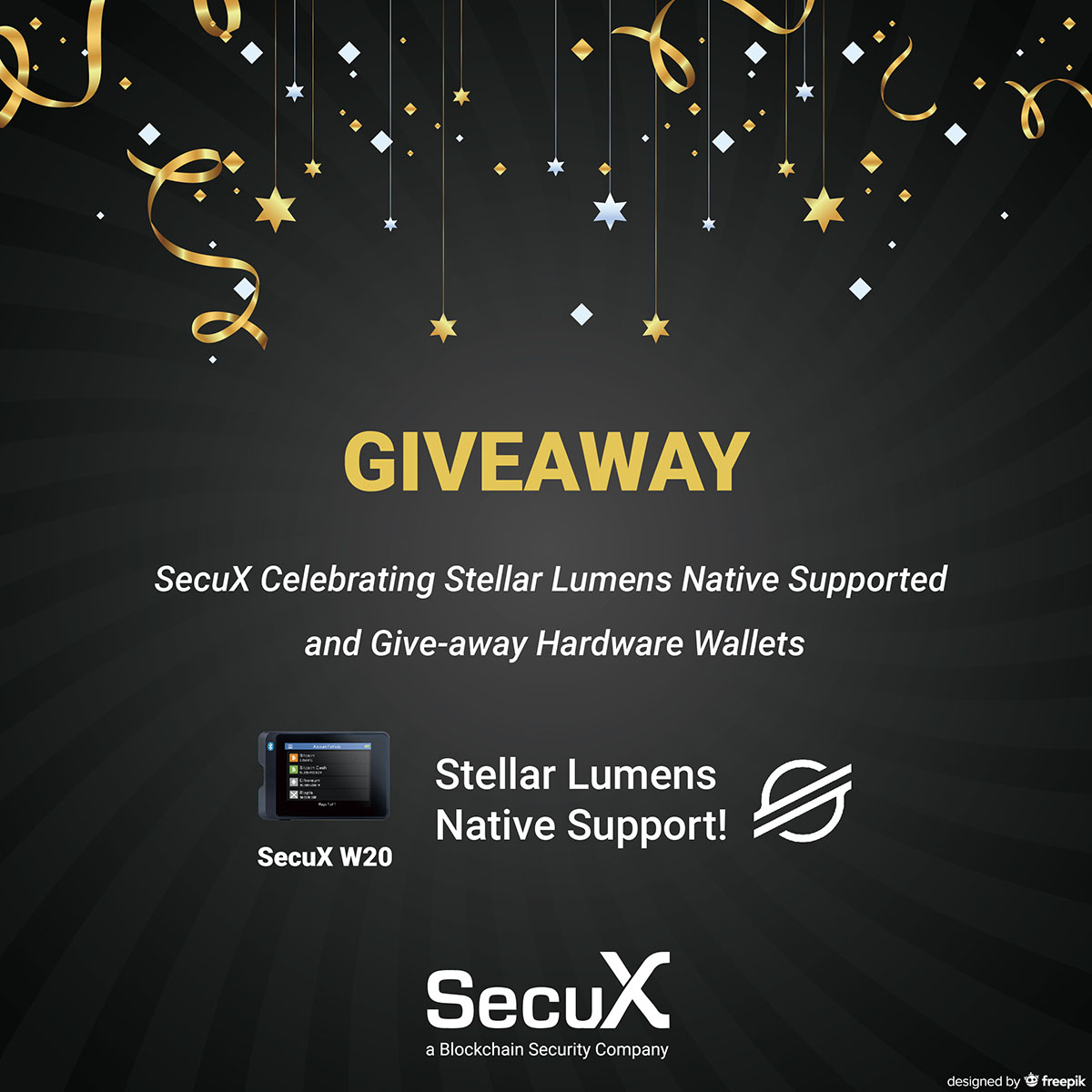 SecuX can be found on :
About SecuX Technology Inc.
As the security pioneer, SecuX is the one devoting to offer the answer for emerging Blockchain technology. Founded in 2018, SecuX core competence comes by a group of experienced professionals, such as Security, Blockchain technology, FinTech, Electrical Engineering, and International Business Management. After awarded the Best Cross-Platform Crypto Hardware Wallet by CV Magazine, SecuX launched a new Cryptocurrencies Payments integrated with hardware wallets applicable to every offline scenario. SecuX will keep focus on problem-solving and make Blockchain land on the real application in daily living. For more information, please visit: secuxtech.com
PR Contact :
Claire Chen
SecuX Technology Inc.
Tel : +886-3-5670245
Email : clairechen@secuxtech.com