SecuX Wallet now features Buy Crypto through Coinify
Hsinchu City, Taiwan, Jan. 6, 2021 – SecuX Technology Inc. is a Taiwan-based cryptocurrency hardware wallet provider with its owned technical design, product manufacturing, international marketing and sales distribution to the global online retail shops and some allied partners. Now SecuX STONE Cryptocurrency Hardware Wallets add Buy Crypto feature on its Wallet Web App (My Wallet on SecuX official website) through Coinify.
More and more crypto investors start realizing that they have to store their crypto-assets in a hardware wallet if they want to avoid any cyber or physical attack from the crackers. However, in a normal situation, they have to create an account on an Exchange first, buy the crypto coins/tokens and save it in their account on this exchange (hot wallet), then transact to their hardware wallet offline to be away from being stolen! Definitely it is most secured concept to keep their crypto funds safe, but the whole process takes a bit longer time and higher cost of the transaction fees (mining fees or gas fees).
From now on, SecuX Wallet users can just click one button to buy the crypto coins/tokens immediately on SecuX Wallet Web App through Coinify.com and save their cryptocurrencies directly in a cold storage. Coinify will charge the same for those users to buy the crypto coins/tokens via SecuX Web Wallet or a hot wallet created on Coinify.com.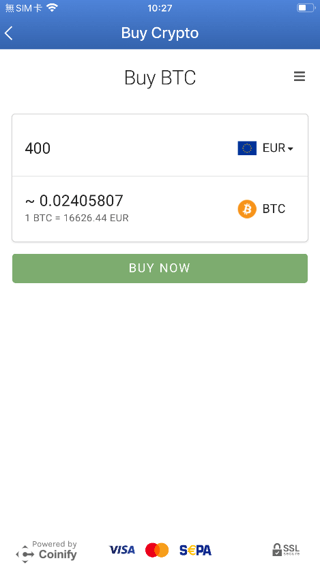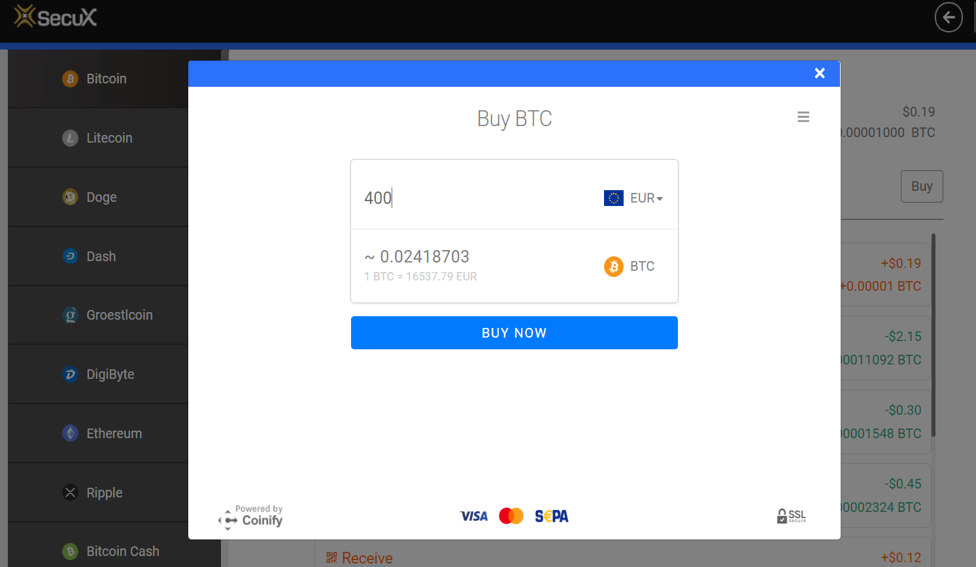 Moreover, SecuX Wallet adds another useful feature in its latest MCU Firmware Version 2.9 that users may Send All the crypto coins or tokens out of the existing account; means to clear the balance and remain 0 in the SecuX wallet account. This new feature is available for SecuX PC and mobile device users.
Meanwhile, as awarded the "Best Cross-platform Hardware Wallet in 2019" by CV Magazine and "Top 3 Best Crypto Hardware Wallet 2020" by Buzz Prime and Best Stuff, SecuX shall make a big stride to expand its business 2021. Strategic Partners such as Online Resellers, Wholesalers, Customized Project Owners are all required by SecuX for a long-term alliance partnership.
SecuX can be found on :
About SecuX Technology Inc.
As the security pioneer, SecuX is the one devoting to offer the answer for emerging Blockchain technology. Founded in 2018, SecuX core competence comes by a group of experienced professionals, such as Security, Blockchain technology, FinTech, Electrical Engineering, and International Business Management. After awarded the Best Cross-Platform Crypto Hardware Wallet by CV Magazine, SecuX launched a new Cryptocurrencies Payments integrated with hardware wallets applicable to every offline scenario. SecuX will keep focus on problem-solving and make Blockchain land on the real application in daily living. For more information, please visit: secuxtech.com
About Coinify ApS
Coinify ApS is an established global virtual currency platform actively offering solutions in Europe, Asia and other regions. Coinify's services include: individual currency trading, corporate brokerage, payment processing services, and Enterprise solutions via Coinify API. Their mission is to mainstream the use of virtual currencies and thus help businesses and individuals to adopt financial innovation. Moreover, Coinify can be seen as a bridge for merchants that can e.g. accept blockchain payments in 15 currencies and receive payouts in fiat. Please visit: www.coinify.com for more information.
PR Contact :
Claire Chen
SecuX Technology Inc.
Tel : +886-3-5670245
Email : clairechen@secuxtech.com