Forex Academy_SecuX V20 In-Depth Review
FOREX ACADEMY, 2020-07-14 BY Edith M.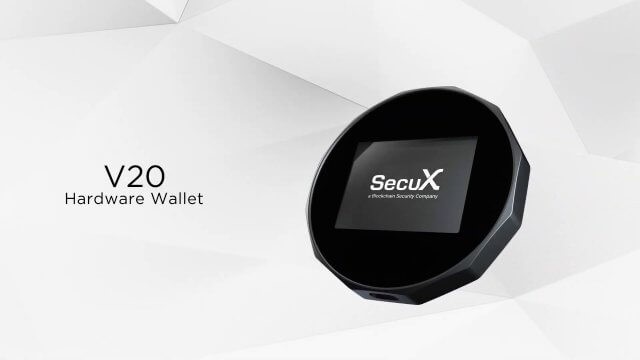 Are you looking for the best cross-platform crypto hardware wallet? If yes, you are in the right place. SecuX V20 Crypto is the 2019 Corporate Excellence Award winner for the best cross-platform hardware wallet. The hardware wallet integrates a 360o comprehensive multi-layer security shield and a couple of amazing features.
Recent news revealed that SecuX is the world's first website to integrate a fast payment solution to its wallet. What's more, it is also the world's first platform to incorporate a Blockchain security solution to retail shops. All you are required to do is scan the QR code to make payment. Even so, what are its top features? How does it compare to other hardware wallets in the market?
We have prepared a detailed insight into everything you need to know about it in this review.
Key Features
Cross-platform support on a laptop, mobile, and desktop devices: SecuX V20 supports a couple of major operating systems, including Mac OS, iOS, Chrome OS, Windows, Linux, and Android.
Dual connectivity: The hardware can be connected to a laptop or desktop via Bluetooth or USB and mobile phones via Bluetooth.
Multiple cryptocurrency support: V20 supports a wide range of coins and tokens, including Ripple, DigiByte, Bitcoin Cash, Bitcoin, Groestcoin, Binance coin, Ethereum, Litecoin, ERC-20 Tokens, and many more.
Vault-grade protection: The hardware is embedded with military-grade Secure Element (SE) to protect users' device PIN and secret key code from phishing and other online attacks.
Account recoverability: It is designed with BIP39, BIP44, and BIP32, which allow users to recover existing accounts. However, the mnemonic security features should be from the standard 12, 18, and 24-word passphrase.
2.8" color touchscreen: SecuX V20 features a large 2.8" color touchscreen to make it easier to operate.
Diamond-shaped metal frame: The V20 is designed with a diamond-shaped aluminum case to enhance its robustness.
Embedded battery: The hardware features an in-built rechargeable 600mAh Lithium polymer battery that can last up to 7 hours.
SecuX V20 security
The V20 is loaded with quite a good number of security features. Among some of these features include a tamper-proof firmware upgrade and preload mechanism. What's more, it features a CC EAL 5+ that is certified with SE to ensure your device PIN and private keys are free from physical and online attacks. Further, its password can be personalized to control its access to wallet applications or other devices.
The device also features a randomized digital keypad to prevent keystrokes. If you are still worried about online security, the device also integrates a physical confirmation feature for every transaction to avoid man-in-the-middle attacks. As a result, even if a bad actor gets access to the password, it is almost impossible for them to use the device. These security features make it not only one of the best hardware wallets but also the easiest to use. Its multi-layer security shield is capable of protecting its firmware, design concept, hardware, user behavior, as well as design and concept security.
SecuX Crypto Payment
In the last two years, there has been a significant increase in cryptocurrencies and crypto stable coins. As a result, more and more brand apps are flocking the market to provide crypto users with an easy-to-use payment function. SecuX V20 prides itself as one of the best crypto apps offering exceptional services in both online and offline scenarios.
The devices facilitate cryptocurrency payments in almost every online and offline scenario in an easy-to-use and less costly manner. Below are some of the top features integrated into their devices.
White label wallet apps and open API supports multiple cryptocurrencies that allow a deeper and broader industry engagement.
Its online approach features an App-centric design that supports dynamic flexibility that is critical in the retail business.
The intelligent IoT devices are capable of handling transactions in the streets, vending machines, restaurants, parking gates, stores, and many more.
Its hardware-based security features provide strong security for these crypto-assets.
Notably, intelligent IoT devices are capable of operating standalone and offline. All you are required to do is connect to the legacy Point-of-Sale (POS) system. What's more, their software can be installed in existing vending machines and self-service machines. Users can also use their dedicated mobile apps to scan the QR code in the IoT devices and use the app to make payments.
SecuX V20 Unboxing
SecuX V20's packaging is quite simple. It comes with a nice sturdy box specially designed with a magnetic lid that gives it a premium look and feel. Upon opening the package, you will find a micro USB, several recovery sheets to write down the recovery phrase, a beautiful microfiber pouch, and a getting started guide.
SecuX Device Installation: Step-By-Step Guide
One of the unique things about the V20 is that there is no private key pre-set button. You will be required to generate your unique private key or restore the existing one. Nonetheless, let's review some of the best ways to set up the device.
Step 1: Charge the device
The first step should be to charge the device for at least 2 hours. You can use the USB power adapter to connect the device.
Step 2: Set PIN
After charging the device, you will be required to set a 4-8 digit PIN. The PIN will be required every time you need to use the gadget.
Note that the device will reset after five failed attempts and, therefore, ensure you're keen while entering your password.
Step 3: Set the device's name
The device is designed with a default name immediately after leaving the factory. You will need to rename it with a 1-13 small or capital letter name.
Step 4: Choose to recover or create your wallet
The device is fully compatible with the required Bitcoin Improvement Proposal (BIP) standards, such as BIP32, BIP39, BIP44, and BIP49. The security feature allows the generated private keys to be restored with a set of 12, 18, and 24 recovery words. Below is a detailed insight on how to create or restore a new wallet:
If you choose to create a new wallet, the device will randomly generate a list of 24 seed phrases. Ensure you write them down on a recovery sheet and keep them safe. In case the device is damaged, lost, or reset, you can use the phrase to retrieve or restore your wallet.
If you are not looking to create a new wallet, you can choose the second option to recover or restore your crypto assets. All you need to do is enter its 12, 18, or 24 recovery phrases. Note that anyone with these phrases can use them to access your wallet, and as such,  you need to keep them safe.
In case your recovery words are lost, ensure you transfer them to another wallet immediately. What's more, do not save them in digital formats such as email, cloud storage, or digital photos. It makes them vulnerable to phishing activities from hackers. Nonetheless, if you need to save them on these formats, ensure your computer is updated with the latest antivirus.
Step 6: Generate private keys
After going through all the above steps, the device will automatically generate private keys based on your recovery words. The keys will be stored in the device's secure element chip. Once the set is complete, it will switch to regular operation mode, which will allow you to turn on the device's Bluetooth function, change security settings, as well as view your account.
Customer Care
There are numerous ways to contact the support team at SecuX. You can contact their dedicated support team via live chat, email, or social platforms such as Facebook and Twitter. Additionally, they also feature a news and event section at their website where users can participate in giveaways or learn about updates on new features. Further, there also have detailed Frequently Asked Questions (FAQs).
If you find it hard to set up the wallet, you can utilize its free user guide that comes with the packaging. Apart from that, you can also find it from their website or contact their customer care team for a comprehensive DIY guide.
Pros and Cons of SecuX V20
Pros
Strong security
Cross-platform support
Offers vault-grade protection
Dual connectivity
Supports multiple cryptocurrencies
Embedded 6000mAh battery
Easy-to-use
Large display
Cons
Can be complicated for beginners
Verdict: Is SecuX V20 worth Your Money?
Based on the above review, there is no doubt that you will rip the full benefits of using SecuX V20. The hardware is not only capable of providing top-notch security for your funds but also helps you conduct seamless transactions. As award-winning cryptocurrency hardware and one of the most secure in the market, the company strives to keep its customers satisfied by integrating quite a good number of amazing features. Try it out, and the security of your crypto coins will be guaranteed.