XSEED Support
XSEED - Secure Backup of Your Crypto Seed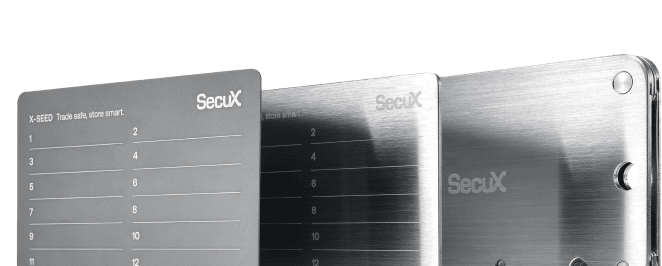 Before You Start
Check Your
Surroundings
Secured network
Your mobile device or your laptop/desktop is NOT connected to an unsecured network.
Turn off surveillance device
You are NOT exposed to any unsecured surveillance or cameras.
Private environment
You are NOT in a public space with many people around you.
A Complete Guide
How to Backup
Your Seed
Your recovery seed/ words are the only backup of your private keys. Anyone who gets hold of your recovery seed/ words can gain access to your digital assets and transfer them elsewhere. In the event of loss, theft or damage to your hardware wallet, you can enter your recovery seed/ words into any compatible software or hardware wallet, and regain control of your coins and tokens. So backing up your recovery seed/ words and keeping them in a safe place is an important security measure in safeguarding your digital assets.
● Fire-proof and water-resistant
1.5mm extremely durable Stainless-steel sheets can resist fire and temperature as high as 2649 °F / 1454 °C; the engraved or stamped letters would not get damaged or washed away by water.
● Unhackable Offline Storage
Your recovery seed is backed up and stored physically offline, off the radar and out of reach from hackers and attackers on the internet.
● Tamper-proof stickers
Included tamper-proof stickers provide an extra layer of security to ensure that the recovery seed is free from any third-party access.
X-SEED offers up to 24 recovery words per sheet, for any software or hardware wallets that uses the standard 12, 18 and 24 recovery words. Suitable for wallets such as Metamask, Trust Wallet, Exodus, SecuX hardware wallets, Ledger, Trezor and many more.
You should keep your X-SEED in a safe place out of reach from malicious intentions. As a backup of the private key to your digital assets, your X-SEED should be stored in the same way as how you would keep your valuable jewelry, property deeds, certificates and important documents.
IMMEDIATELY transfer all your coins and tokens to a different wallet with a different set of recovery seed/ words or private key, if you suspect that your X-SEED has been accessed by others, the tamper-proof stickers have been broken, or your X-SEED is lost or stolen. Also make sure that the new wallet's recovery seed or private key have not been exposed to any risks of being stolen, hacked or compromised, and have not been shared, stored or saved on your computer, mobile phone, cloud services or any storage services online.
We would also advise you to set up a Passphrase (also known as the 25th recovery word or hidden wallet), so that even if someone gets hold of your recovery seed they would not be able to access your digital assets.