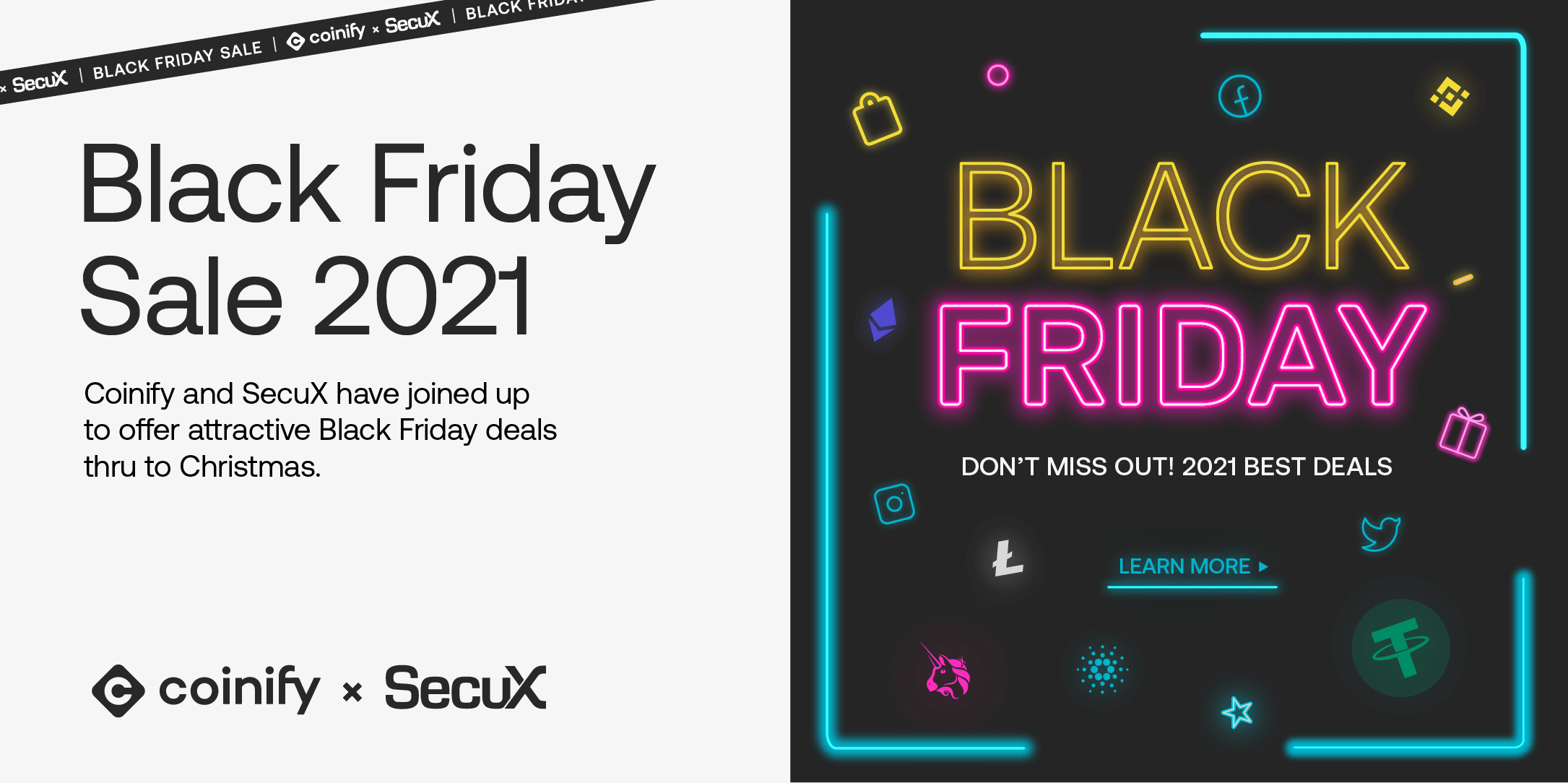 Coinify, a global virtual currency platform, has joined up together with SecuX hardware wallet to offer their customers some very attractive Black Friday deals.
Get a $25 voucher when purchasing SecuX V20 and W20!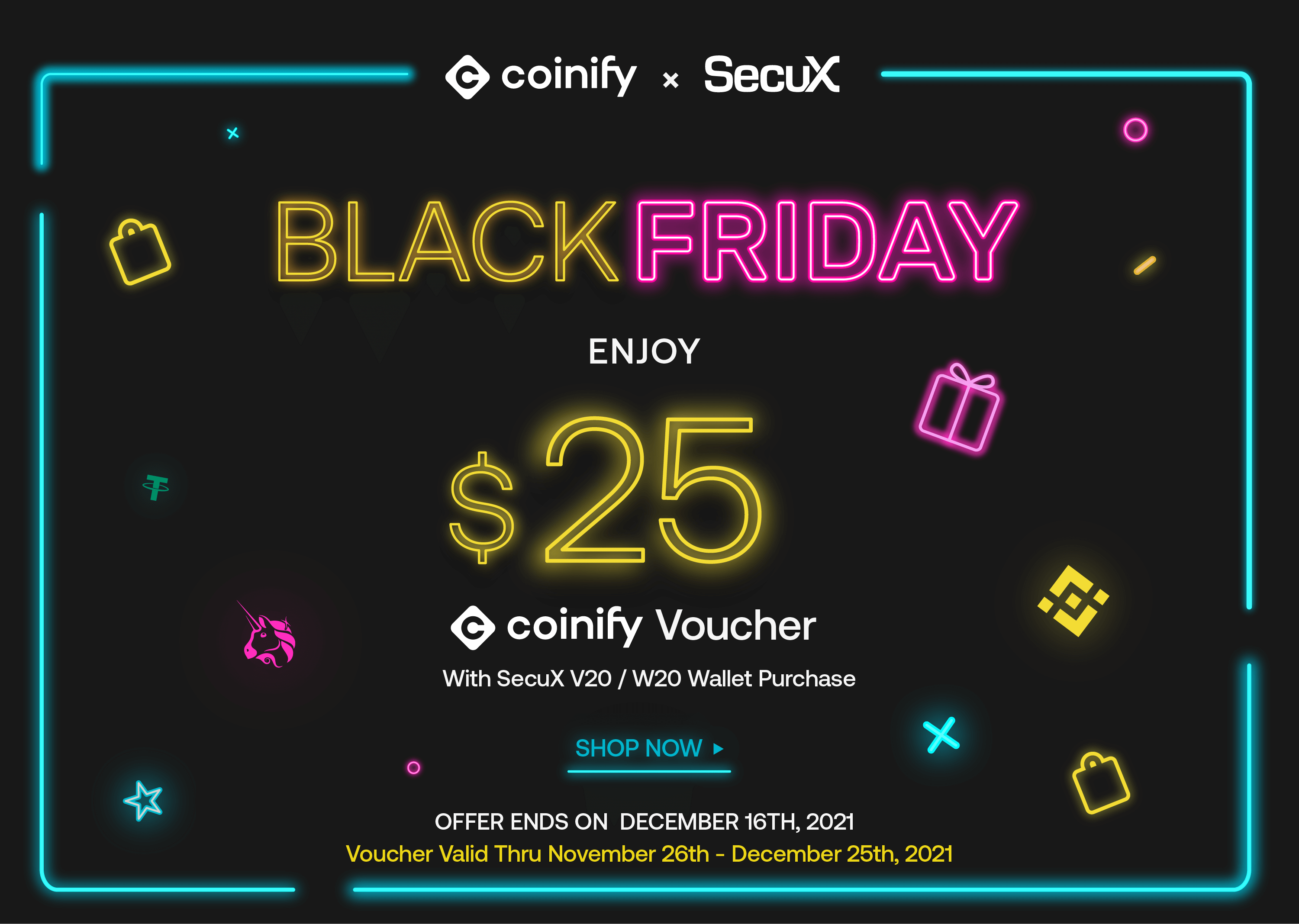 For any purchase of the SecuX V20 and W20, a USD$25 voucher code will be given via submitting a proof of purchase dated from November 18 to December 16, 2021, at this link:
https://forms.gle/VgGUJbwWoqRntcFF6
After SecuX team verifies the validity of the purchase receipt and order confirmation, a voucher code of USD$25 credit to buy crypto on Coinify will be emailed to the applicant. The voucher will be valid for 4 weeks from Black Friday, November 26 to December 25, 2021 (11/26/2021 – 12/25/2021).
Apply for your $25 voucher now using this link:
https://forms.gle/VgGUJbwWoqRntcFF6
Trade crypto via bank or card with 0 Coinify fees* on Coinify from 11/26 – 12/10/2021!!
Coinify, a leading cryptocurrency trading platform, is offering a special promotion for users of the SecuX crypto wallet. With 0 Coinify fees*, SecuX users can easily trade crypto on Coinify using the SecuXess web application or SecuX Mobile App. The SecuX hardware wallet, also known as a cold wallet, provides an extra layer of security by keeping the user's private keys offline, ensuring that their crypto assets remain safe from hackers. Once the transaction is confirmed, the crypto will be deposited directly into the user's SecuX wallet account address, making it a convenient and secure option for managing their crypto assets.
*0 fees include all bank, card and handling fees. Not including network fees and risk margin.
Trade crypto on Coinify with your SecuX wallet here:
SecuXess web application https://wallet.secuxtech.com/secuxess/#/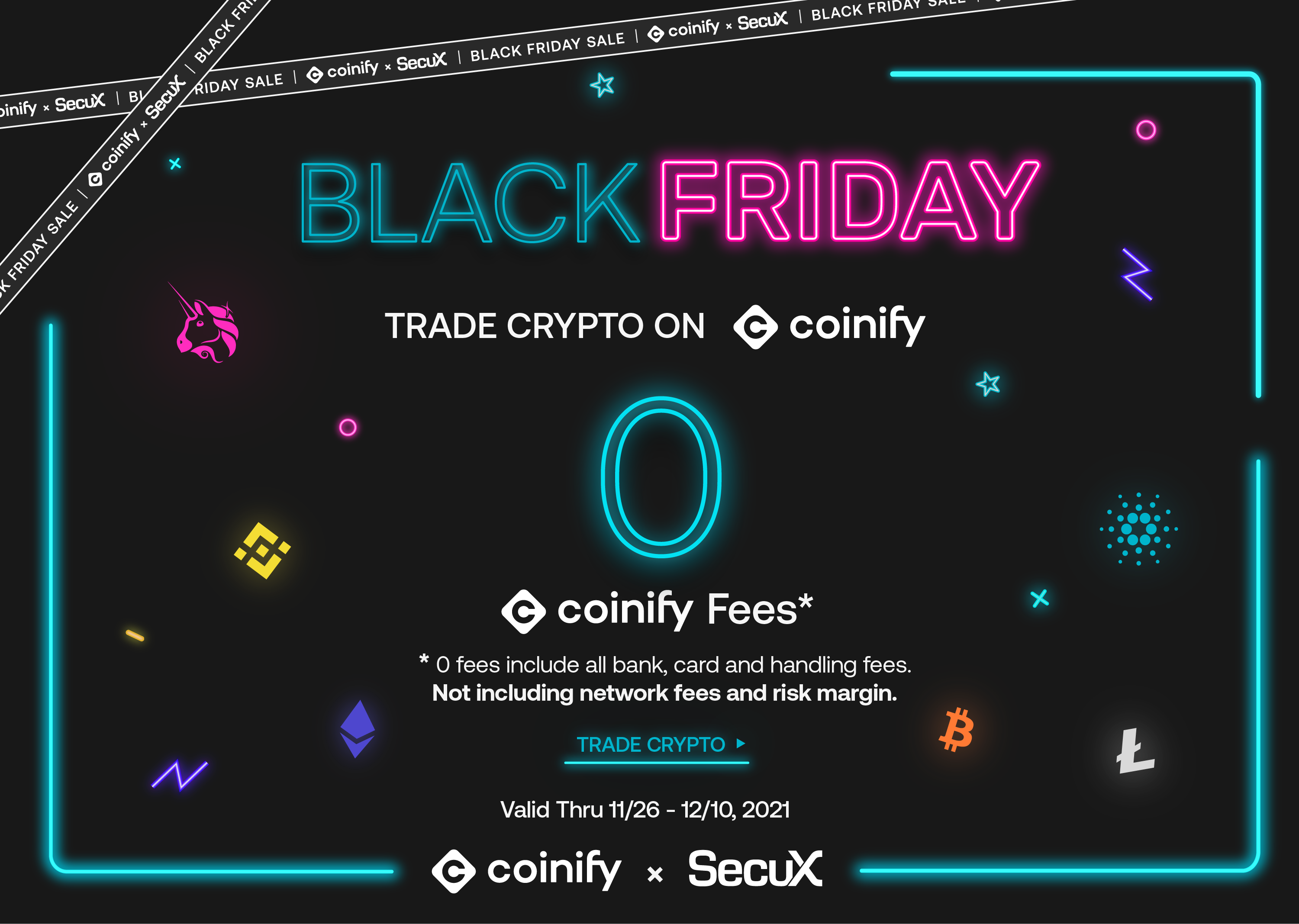 SecuX Mobile App iOS
SecuX Mobile App Android
Win a $200 prize when you Follow, Retweet, Tag and Share!
From 11/18 – 12/16/2021!
SecuX is also giving away $200 to one lucky winner who follows, retweets and tags friends on Twitter, or follows and shares on Facebook/ Instagram!
Join our contest on Gleam for the chance to win USDT$200:
https://gleam.io/qaFLu/-secux-usdt-200-lucky-draw-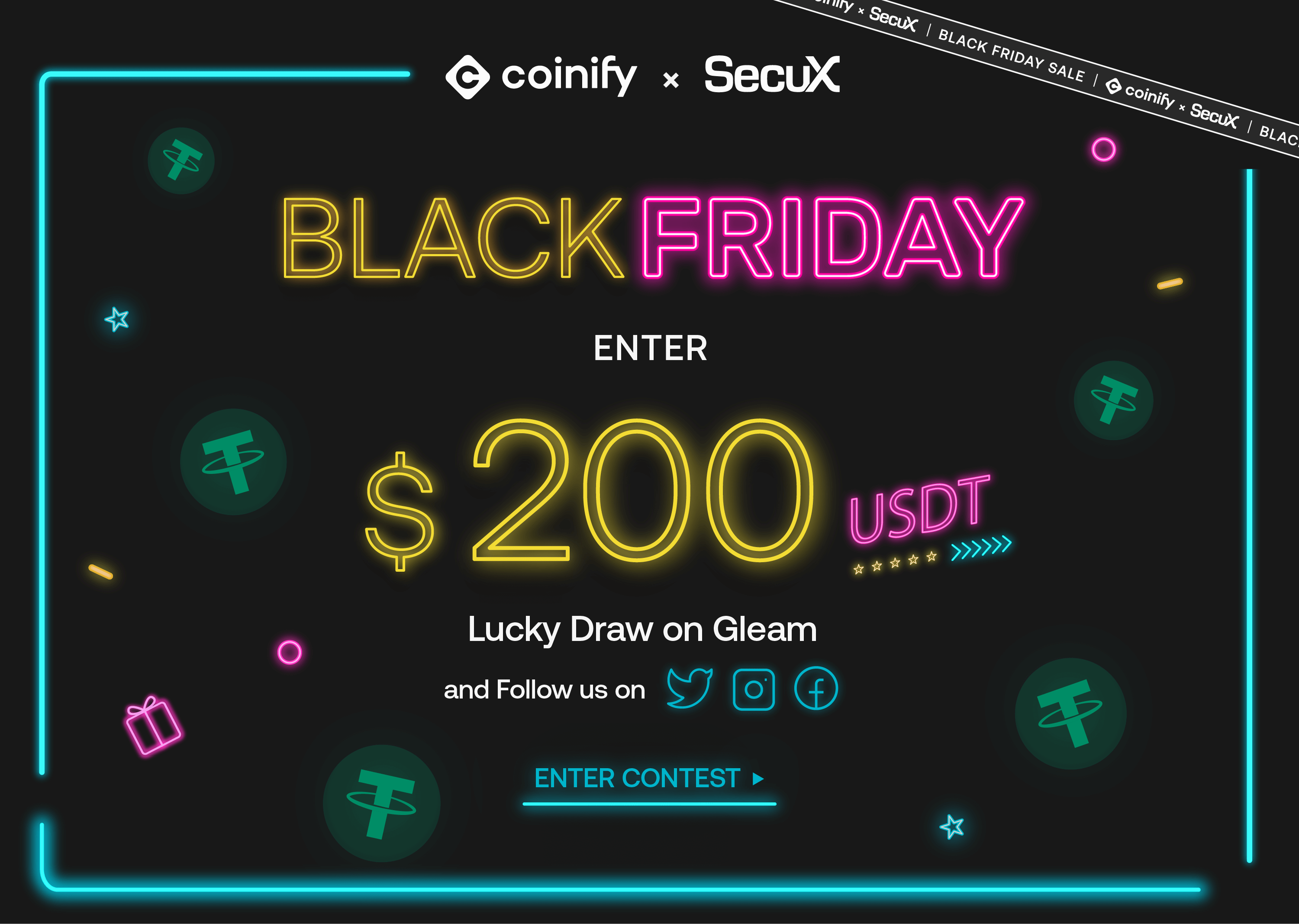 Terms & Conditions:
1. USD$25 credit is only redeemable on Coinify, a third-party service available on SecuX Services including SecuXess web application and SecuX Mobile App. The voucher is limited to a one-time use only per customer, and is not transferable or redeemable for cash.
2. You agree that your use of Coinify Services is subject to separate terms and conditions between you and Coinify identified in SecuXess or SecuX Mobile App. SecuX is not responsible for any performance, or non-performance by Coinify. It is your responsibility to review Coinify's terms and policies before using Coinify. Coinify may request or require access to your personal data, of which the processing will be handled in accordance with Coinify's privacy policy and best practices.
3. SecuX may not be able to provide support for issues caused by Coinify. Please contact the relevant Coinify directly for any questions, concerns or customer support.
4. SecuX and Coinify reserves the right to change terms and conditions, substitute offer of equal or greater value and end offer at any time without notice. Void where prohibited or restricted by law.
5. By entering and participating in any of the Coinify X SecuX Black Friday Sale 2021 deals and activities, you understand and agree to all of the above terms and conditions.
6. All participants must understand and agree to SecuXess and SecuX Mobile App Terms of Use and SecuX Privacy Policy while accessing and using SecuX products and services.