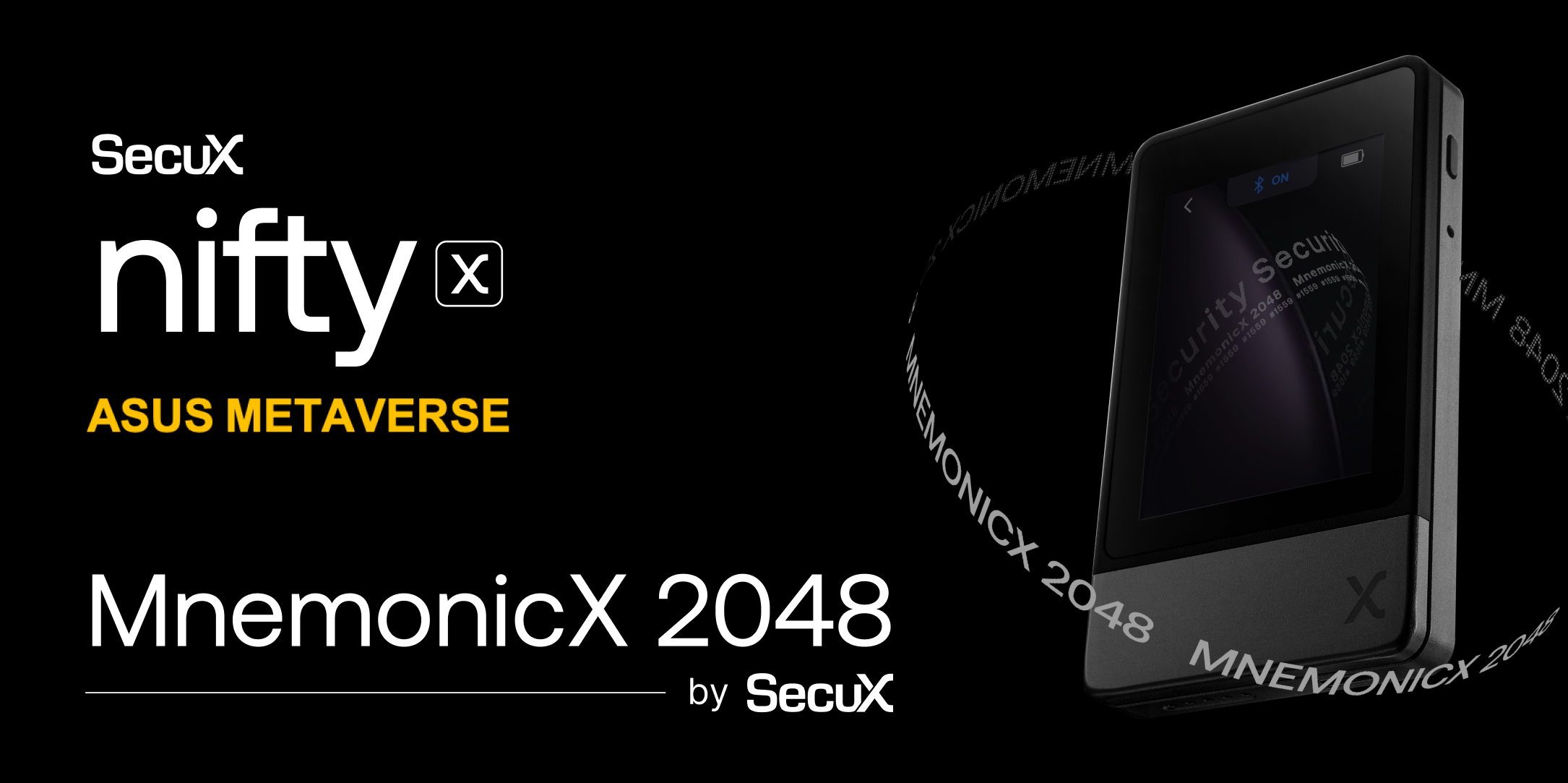 New York, NY – SecuX, a blockchain security company launches MnemonicX 2048, the first-ever soulbound cold wallet NFT project, which aims to bring together blockchain enthusiasts, security experts, and digital asset holders to recognize the importance of breakthroughs in cryptography and blockchain technology and explore new possibilities for the future of blockchain.
Table of Contents
The World's First Soulbound Cold Wallet NFT Project
By purchasing the SecuX Nifty-X, the first 2,048 hardware wallet users can receive a MnemonicX 2048 SBT (soulbound token) and an NFT, which commemorates the invention of the BIP39 mnemonic seed phrase and the launch of the SecuX Nifty-X, the world's first soulbound cold wallet. The SBTs are connected to membership privileges via NFT, which are provided by Asus Metaverse. These privileges grant early access and VIP status to SecuX products and services. Each of the 2,048 NFTs in this collection corresponds to a unique 2048-word BIP-39 seed phrase, which can be used to secure cryptocurrency and other digital assets. This not only grants users a piece of cryptographic history but also showcases their support for the adoption of secure digital asset management.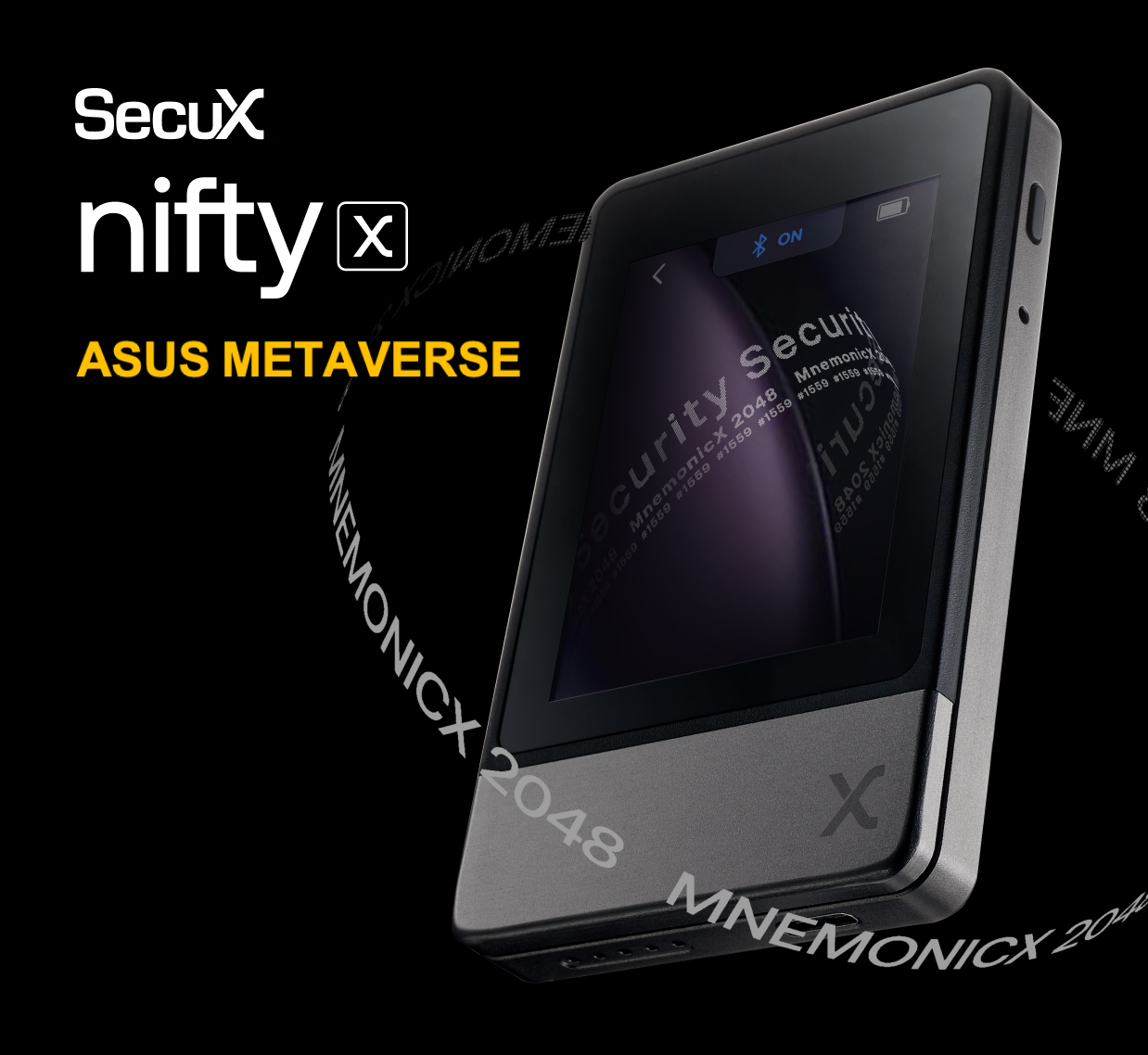 Partnerships with Web3 and Cybersecurity Leaders
SecuX has forged partnerships with industry leaders' web3 divisions, including web3 domain provider Unstoppable Domains and ASUS Metaverse Inc., an innovative technology company wholly owned by ASUS that specializes in web3 business. In Q2, ASUS Metaverse will launch an NFT marketplace and SBT solution, enabling more end users and B2B customers to easily join the web3 world. Additionally, SecuX plans to introduce an integrated scam alert service in partnership with a world's leading cybersecurity firm, which will be announced next month, further enhancing their commitment to user security.
A Blockchain Legacy
"We are thrilled to launch the MnemonicX 2048 project, as we commemorate the 10th anniversary of the revolutionary BIP39 mnemonic seed phrase, the digital twin of private key that marked the shift from a centralized financial system to the era of self-custody," said Peter Chen, CEO for SecuX. "The mnemonic seed phrase is not only a milestone but also a blockchain legacy, symbolizing the empowerment of individuals to take control of their digital assets. By providing a secure and accessible solution for digital asset storage, we aim to honor and build upon this significant moment in blockchain history. Our partnerships with industry leaders and presence at major blockchain events highlight the importance of this project, and we look forward to continued growth and innovation in the blockchain space."
What is a mnemonic seed phrase?
Mnemonic seed phrases are vital for securing user funds in cryptocurrency wallets. The 2013 Bitcoin Improvement Proposal (BIP) 39 standardized a 2048-word list, which makes it easier for users to switch between wallets. This breakthrough enabled private key recovery, safeguarding users' assets in case of lost or stolen devices.
What is an SBT (soulbound token)?
Soulbound tokens, also known as publicly verifiable and non-transferrable NFTs (non-fungible tokens), are digital assets that are permanently tied to a specific individual (or crypto wallet) and represents an individual's credentials, affiliations and commitments — meaning they cannot be transferred to others (or other crypto wallets).
What is the SBT solution provided by ASUS Metaverse?
Asus Metaverse provides a unique Soulbound token solution that connects membership and specific privileges through NFTs. This innovative solution not only reduces the barriers to entry for Web2 users to enter the Web3 world but also helps enterprises attract new audiences from the Web3 generation. The solution is now available for customization to enterprises in different industries, enabling them to easily integrate this groundbreaking technology into their systems and services.
What makes the SecuX Nifty-X a soulbound cold wallet?
The SecuX Nifty-X is a soulbound cold wallet because it includes a mint code for the MnemonicX 2048 soulbound token NFT with the first 2,048 purchases. This means that when the SBT is minted to the address generated by the SecuX Nifty-X cold wallet, it becomes forever bound to the wallet address and its seed phrase. As a result, the SBT cannot be transferred or transacted, making it an even more secure way to store digital assets.
Project Features:
The first 2,048 SecuX Nifty-X users receive:
1 SBT (Soul-bound token) + 1 NFT on Polygon
AR display capability on Instagram.
Price: Free mint, 0 gas fee
The SBT / NFT provides a range of utilities, including early access and VIP privileges to SecuX products, services, and future airdrops. These benefits include:
One year of free shipping on all orders and a 20% discount on orders over $150 from shop.secuxtech.com
Special gifts, discounts, and rewards when placing orders on shop.secuxtech.com
Priority customer support
$50 credit to purchase unique web3 domains on Unstoppable Domains
One year of TrendMicro scam alert service package, available only for those who purchase the SecuX Nifty-X
Exclusive entry to win cash prizes and SecuX products
VIP or discounted access to SecuX-sponsored conferences and events.
These utilities make the NFT a valuable asset for SecuX customers, offering them an array of exclusive benefits and opportunities to engage with the SecuX community.
Project Timeline:
The SBT mint site will launch on May 30, 2023.
The NFT mint site will launch on July 15, 2023.
The reveal date for the NFT has been set as September 9, 2023, in honor of the 10th anniversary of Marek Palatinus (also known as Slush) publishing the Bitcoin Improvement Proposal 39 (BIP39) in 2013.
Featured Events
The MnemonicX 2048 project will showcase at several prominent blockchain events, including NFT.NYC 2023 (April 12-14), Consensus 2023 (April 26-28) in Austin, Texas, Blockchain Expo Tokyo 2023 (May 10-12), and Blockchance 2023 (June 28-30) in Germany.
To learn more about the MnemonicX 2048 project and secure digital asset storage, visit SecuX's website at https://secuxtech.com/
MnemonicX 2048 website: https://secuxtech.com/mnemonic-x-2048-nft
Marketing and PR inquiries: marketing@secuxtech.com
PR contact: Alice Bo-Wen Chang alicechang@secuxtech.com
ASUS Metaverse Corporation contact: support@asusmeta.co