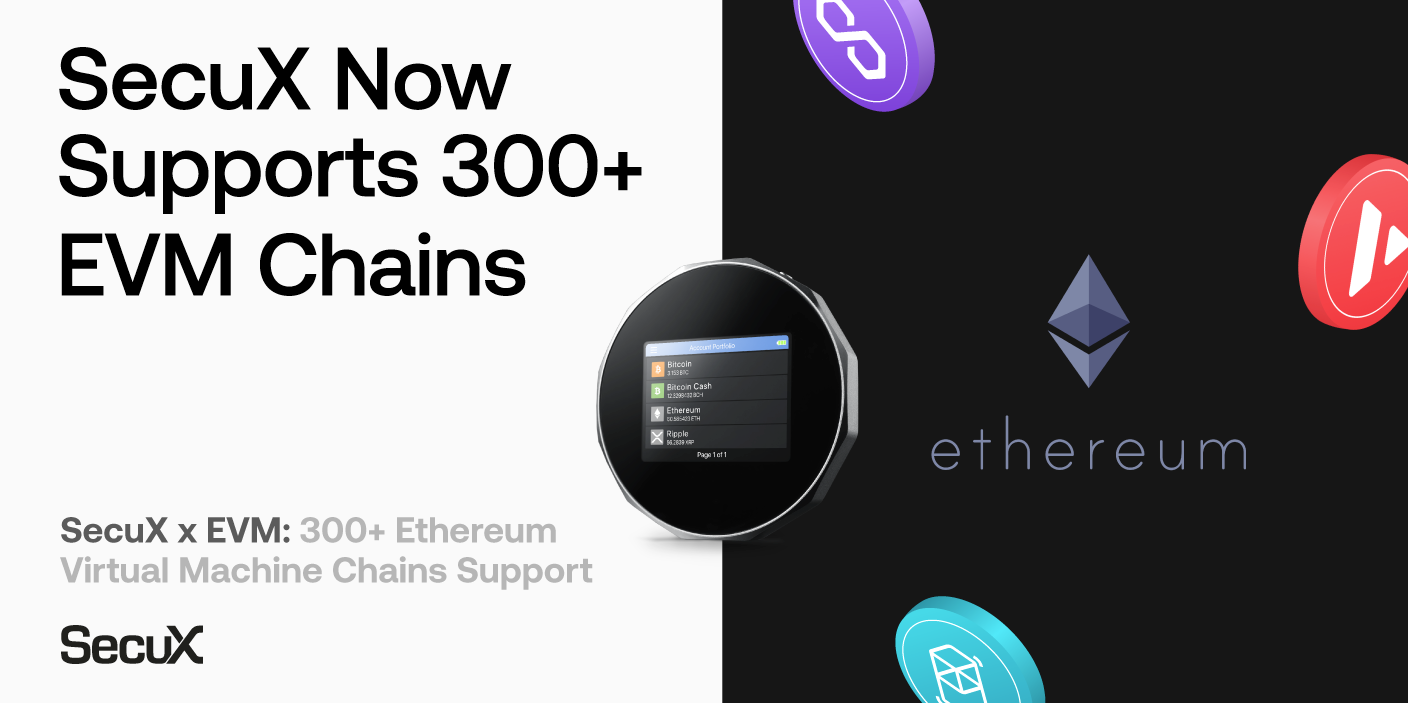 SecuX, the hardware wallet provider, has released its latest update, which includes the biggest increase of coins and tokens cross chain support of over 300 Ethereum Virtual Machine compatible blockchains, i.e. Polygon, Avalanche, Optimism, Fantom, Cronos, Theta, VChain, ThunderCore, Syscoin, EOS, Filecoin, Arbitrum One and many more. This upgrade allows users to manually add EVM chains on their SecuX V20, W20 and W10 hardware wallets via the SecuXess web application.
What is an Ethereum Virtual Machine?
The Ethereum protocol is designed and structured to keep the continuous, uninterrupted, and immutable operation and consensus of Ethereum accounts and smart contracts. The Ethereum Virtual Machine or EVM is a software platform, or virtual computer, that runs smart contracts and computes the state of the Ethereum network after each new block is added to the chain, and is also used by developers to create decentralized applications (DApps).
What are EVM-compatible blockchains?
Due to issues such as high gas fees and slow transactions with Ethereum, developers began creating DApps and smart contracts to offer lower gas fees and faster transactions. When such DApps and smart contracts are created on other permissionless blockchains, many of these blockchains are severely limited and lack interoperability with other blockchains.
However, rather than starting from scratch and creating an environment similar to that of the Ethereum Virtual Machine, through the use of cross chain bridges, developers came up with another solution. They can copy certain pieces of the Ethereum network, and create decentralized apps that allow users to quickly and easily transfer assets between any EVM networks.
What are the popular Ethereum Virtual Machine chains?
Many of today's most used blockchains follow the EVM-compatible model for this interoperability and fast deployment. There are currently over 300 EVM-compatible blockchains available, including Polygon, Avalanche, Optimism, Fantom, Cronos, Theta, VChain, ThunderCore, Syscoin, EOS, Filecoin, Arbitrum One, etc. and many more. The EVM compatible blockchains offer all the benefits and reach of the Ethereum blockchain but with lower transaction costs, faster speeds and higher capacity. It is all about optimization and the best possible decentralized user experience.
SecuX hardware wallets and the Ethereum blockchain
SecuX hardware wallets have been providing secure offline storage solutions for the Ethereum blockchain and all ERC-20 tokens, including Tether, Uniswap, Chainlink, Shiba Inu, etc. since 2019. As the Ethereum blockchain becomes one of the most important blockchains that keeps expanding and growing its ecosystem, SecuX continues to add and update Ethereum support and functions in order to facilitate all the need for our crypto wallet users. Prior to the 300+ EVM chains support, NFT ERC-721 and ERC-1155, the Ethereum 2.0 Merge, are all great examples of how SecuX has always been an active Ethereum pioneer, together with fellow developers building a better web3 experience for all ETH users.
SecuX is a company that offers comprehensive solutions to secure digital assets. One of their most popular products is the hardware wallet, which is a type of cold wallet that stores your private key offline. The SecuX hardware wallet features a military-grade Infineon Secure Element chip to protect your private key, and a large color touchscreen for easy transaction confirmation. It's no wonder that SecuX hardware wallets are a popular choice for those looking for a secure Ethereum wallet. By using a hardware wallet, you can keep your crypto wallet safe and secure, minimizing the risks of human error when interacting with new technologies.
Manage EVM chains coins and tokens on SecuX Hardware Wallets
SecuX V20, W20 and W10 hardware wallets now support over 300 EVM chains to be added manually via the SecuXess web application. Users can add any EVM compatible chain to their portfolio, and start receiving, sending coins and tokens, as well as check balance or view transaction history on the specific chain explorers* when available. Follow our step-by-step tutorial to learn how to add and manage EVM compatible chains on SecuXess and SecuX Hardware Wallets.
*Not all EVM-compatible chains provide their own explorers. The "Explorer" tab would not be visible if the specific EVM-compatible chain explorer is not available.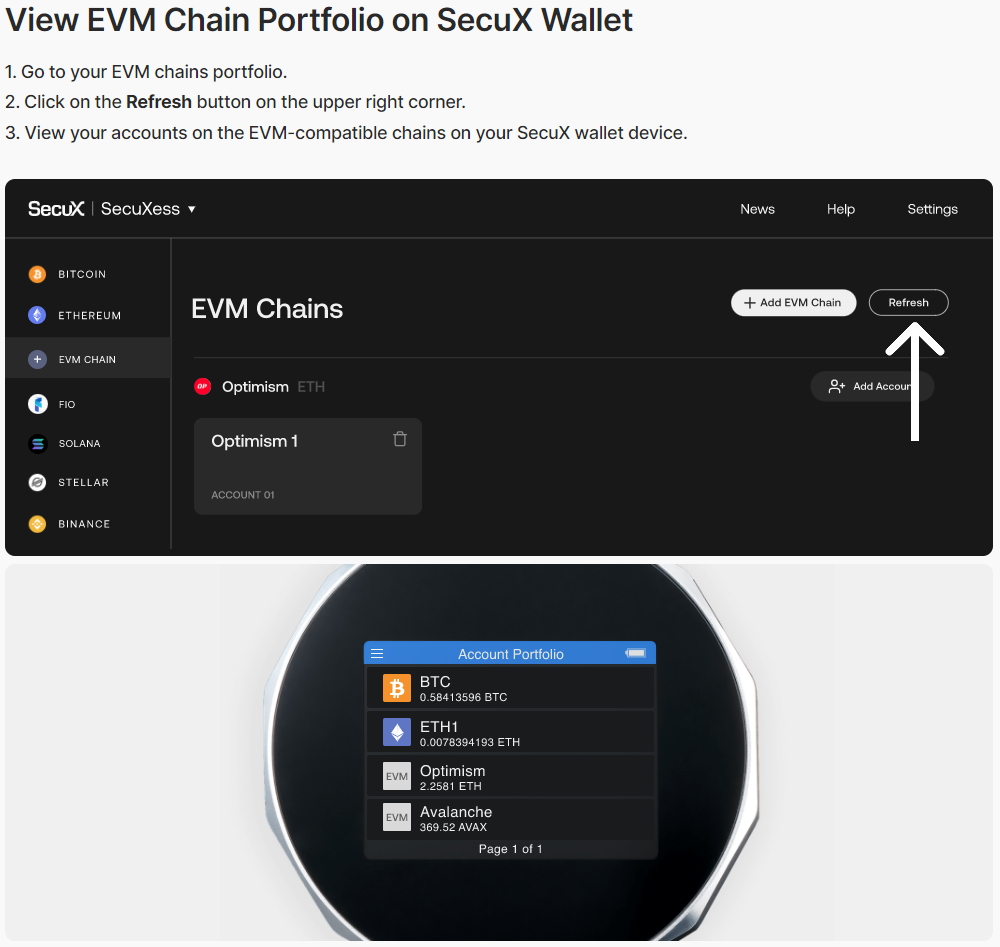 The SecuX hardware wallets and its web application SecuXess, has recently added support for the Solana ecosystem, including Solana and SPL tokens. It has also added NFT support, the ERC-721 and ERC-1155 Non-fungible tokens on top of the already supported blockchains, such as Bitcoin, Bitcoin Cash, Ethereum, BNB chain, Tron, Ripple, Stellar, Dogecoin, Cardano, Litecoin, Groestlcoin, etc.
Related Articles:
SecuX Crypto Hardware Wallets Now Support the Solana Ecosystem!
Secure Your NFTs on SecuX V20, W20 and W10!
How to Store Shiba Inu tokens on SecuX Hardware Wallets?