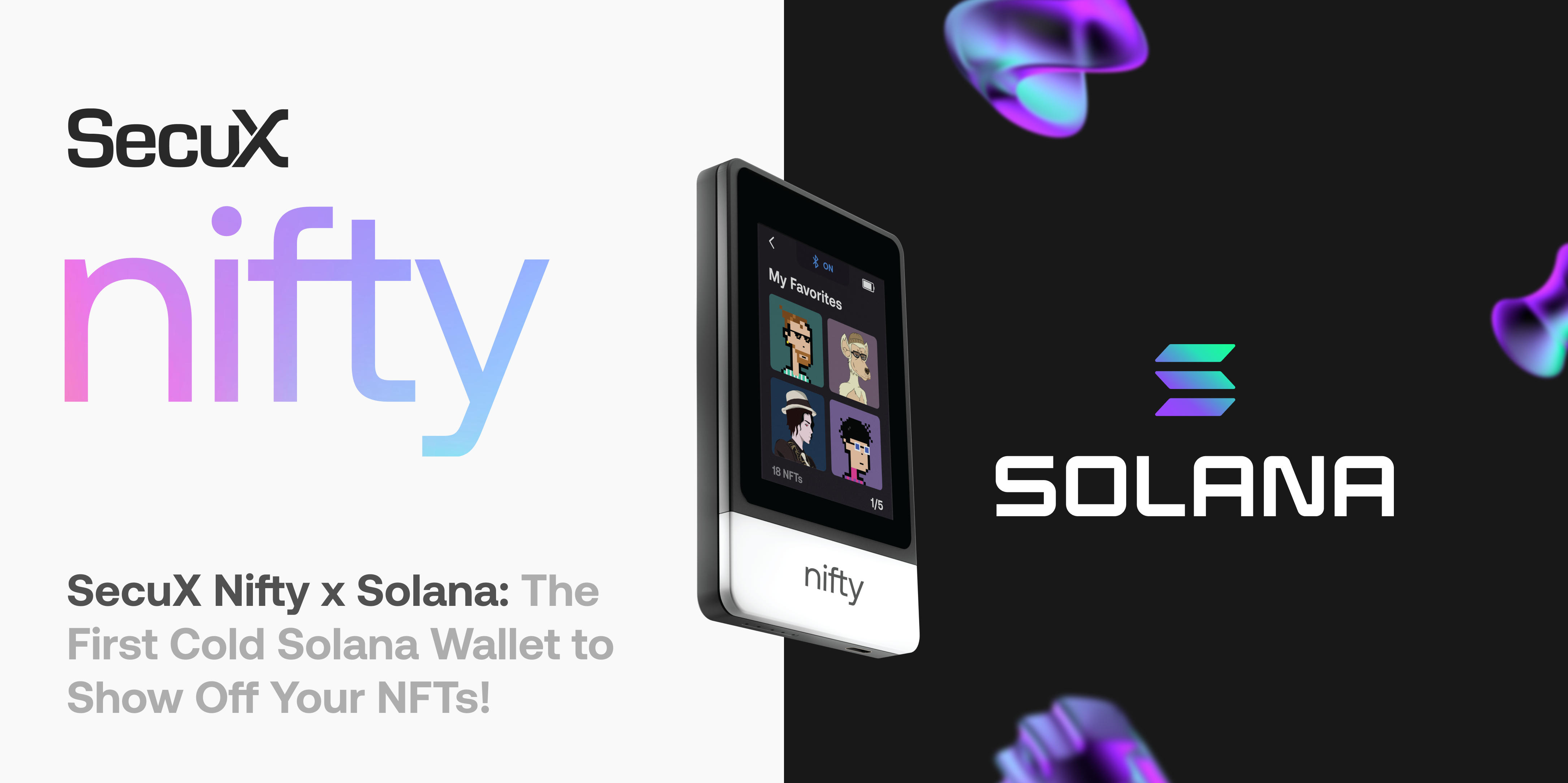 The world's first NFT-display hardware wallet / cold wallet SecuX Nifty, just released its latest firmware update, version MCU2.07.3. This update allows SecuX Nifty to become the first cross chain Solana wallet to display Solana NFTs on the cold wallet device itself, users can also send, receive and manage SOL and all SPL tokens on the SecuX Wallet app safely and easily. Further improvements include gallery management and cross chain display to provide a better web3 user experience when safeguarding digital assets and collectibles with complete self control.
Why Do You Need an NFT Wallet?
NFT wallet security and storage, became a major priority for digital asset investors in 2022. Recent NFT hack attempts and thefts, i.e. Seth Green's Bored Ape NFT theft, the Discord NFT hack attempt, are at the behest of bad actors further push this priority to the forefront of enthusiasts worldwide. Therefore, it is imperative to protect the private keys of your precious NFT collectibles as well as other digital assets, by keeping it offline in a cold storage such as a hardware wallet.
However, most hardware wallets on the market currently are designed for fungible tokens like Bitcoin, Ethereum, and Shiba Inu that are very different from the non-fungible characteristics of an NFT. Each and every NFT is unique and one of its kind. It could be a profile picture, a painting, animation, music or video. You may not be able to distinguish between the NFTs in your account while using a traditional hardware wallet, which makes it very hard to manage your digital collectibles, and may accidentally send out the wrong NFT, or list the wrong NFT on marketplaces like Opensea or Magic Eden.
The First Solana Wallet to Display NFTs On-device
The most distinctive feature of all SecuX hardware wallets is the large 2.8 inch color touchscreen, which provides crypto investors a very intuitive and easy to use hardware wallet. Moreover, it enables the display of account balances, account address QR code, and the complete information needed when verifying a transaction. The SecuX Nifty cold wallet has accomplished all of that, plus the ability to display your NFTs visually, instead of a series of letters and numbers, as tokenized items shown on all the other hardware wallets.
Now with its latest firmware upgrade, SecuX Nifty has become the first hardware and cold Solana wallet to be able to display Solana NFTs on the device itself. Solana NFT collectors can enjoy showing off true ownership of their favorite NFTs, but also verify visually every NFT transaction that is going out on the device.
Why Support Solana on SecuX Nifty?
Solana has become one of the leading blockchains in the last two years, with its market cap ranked as high as the 4th place in the crypto world, and now still in the top 20s despite the recent drop impacted by the FTX collapse.
Solana NFTs have also grown in popularity tremendously in 2022. Crypto market intelligence platform Messari points out in its "State of Solana Q3 2022" report that the total number of daily new NFTs in the Solana ecosystem increased to over 8 million. After Opensea, the largest NFT marketplace started supporting Solana NFTs trading in June 2022, Solana NFT integration support has also been announced on social media giants Instagram and Facebook. For NFT collectors, Solana has become one of the most important blockchains alongside Ethereum, Polygon and BNB chain.
As the world's first NFT-focused hardware wallet, SecuX Nifty strives to provide the safest and easiest cold storage solution for NFT collectors and professionals. Therefore it is one of the top priorities to make SecuX Nifty a Solana wallet, after the company has successfully implemented SOL and SPL tokens support on the SecuXess web application for their SecuX V20, W20 and W10 crypto wallet series.
How to Safely Update to the Latest Firmware
To safely enjoy sending, receiving and managing Solana SOL, SPL tokens and Solana NFTs, it is required that the SecuX Wallet mobile App is updated to its latest version 1.2.01, and the SecuX Nifty hardware wallet device has the latest firmware version MCU 2.7.03 and SE (Secure Element) firmware version 1.94 installed. The current firmware version information can be found in the "About" section under device settings.
It is fast, easy and secure to get your hardware wallet device up to date all in the SecuX Wallet mobile app. If you wish to check and update your firmware manually, you can go to the Profile section on SecuX Wallet app, tap manage wallets> select wallet> firmware check and perform firmware updates on your wallet device.
View and Manage Solana NFTs
In the new update, you can view and manage your Solana NFTs right from the SecuX Wallet App. Along with NFTs on Ethereum, Polygon and BNB chain, you can now manage Solana NFTs in My Gallery, manipulate display order in Favorites, view their prices in SOL value, properties and on popular DeFi marketplaces such as Opensea, Trait Sniper, Magic Eden, and Solscan. You can also set a Solana NFT as your profile picture, hide or unhide your NFTs.
How to Manage Gallery and Cross Chain Display on SecuX Wallet App
New features including Manage Gallery and Multichain Display are also released in this SecuX Wallet app update version. As SecuX continues to add more blockchain support to the SecuX Nifty hardware wallet, allowing users more viewing and display options for their collectibles on different blockchains is an absolute must.
In the newly implemented "Manage Gallery" section, users can enable or disable the display of the supported blockchains, ie. Ethereum, Polygon, BNB chain and Solana, by switching the corresponding toggle on or off.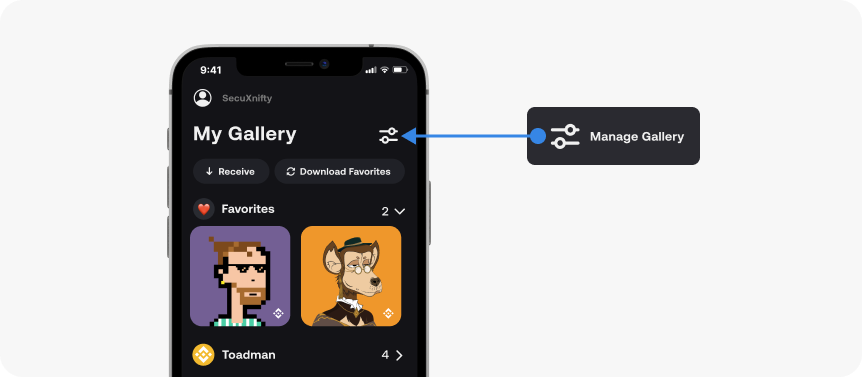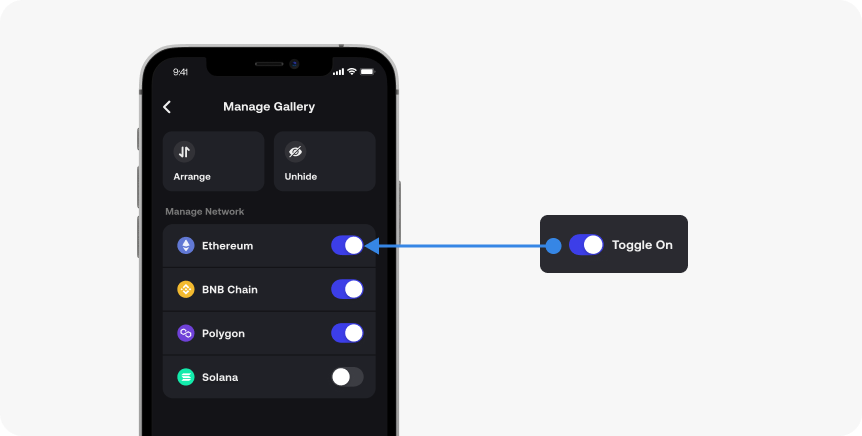 The "Arrange" section enables users to arrange the order of the NFTs displayed in Favorites. Drag and drop the NFTs within the same network to desired positions. However, the order of NFTs cannot be manipulated across different networks.
Send and Receive Solana NFTs, SOL and SPL Tokens
Securely send and receive your Solana coins, Solana NFTs and SPL tokens all in one place! SecuX Nifty eliminates the risks of private key leak by storing it offline in the Secure Element chip. It is also easy and fast to set up and process transactions on the SecuX Wallet app which is specially designed for NFT collectors, traders and investors.
Simply unlock and connect the device to the mobile app, tap on the NFT you wish to send and the send icon, then follow our step-by-step guide and voila! Check the status on Solscan right in the app as well.
Conclusion
SecuX Nifty is a hardware wallet that offers the perfect solution for securely managing your crypto assets. As a cold wallet, it ensures that your private key remains offline and out of reach from potential hackers. With its advanced features, the SecuX Nifty allows you to manage your portfolio and showcase your NFTs with ease. It is the ideal crypto wallet for those who value security and convenience. Upgrade your crypto game by getting your hands on this impressive crypto wallet!
And if you are heavily immersed in the NFT world, hurry up and grab your SecuX Nifty, it is not only the best NFT crypto wallet, it has also become the best Solana wallet for the Solana ecosystem.
Related Articles:
SecuX Crypto Hardware Wallets Now Support the Solana Ecosystem!
SecuX Wins 3 Awards at ePDA and Golden Pin
A Hardware Wallet for Bored Apes AND Bored $ApeCoins?