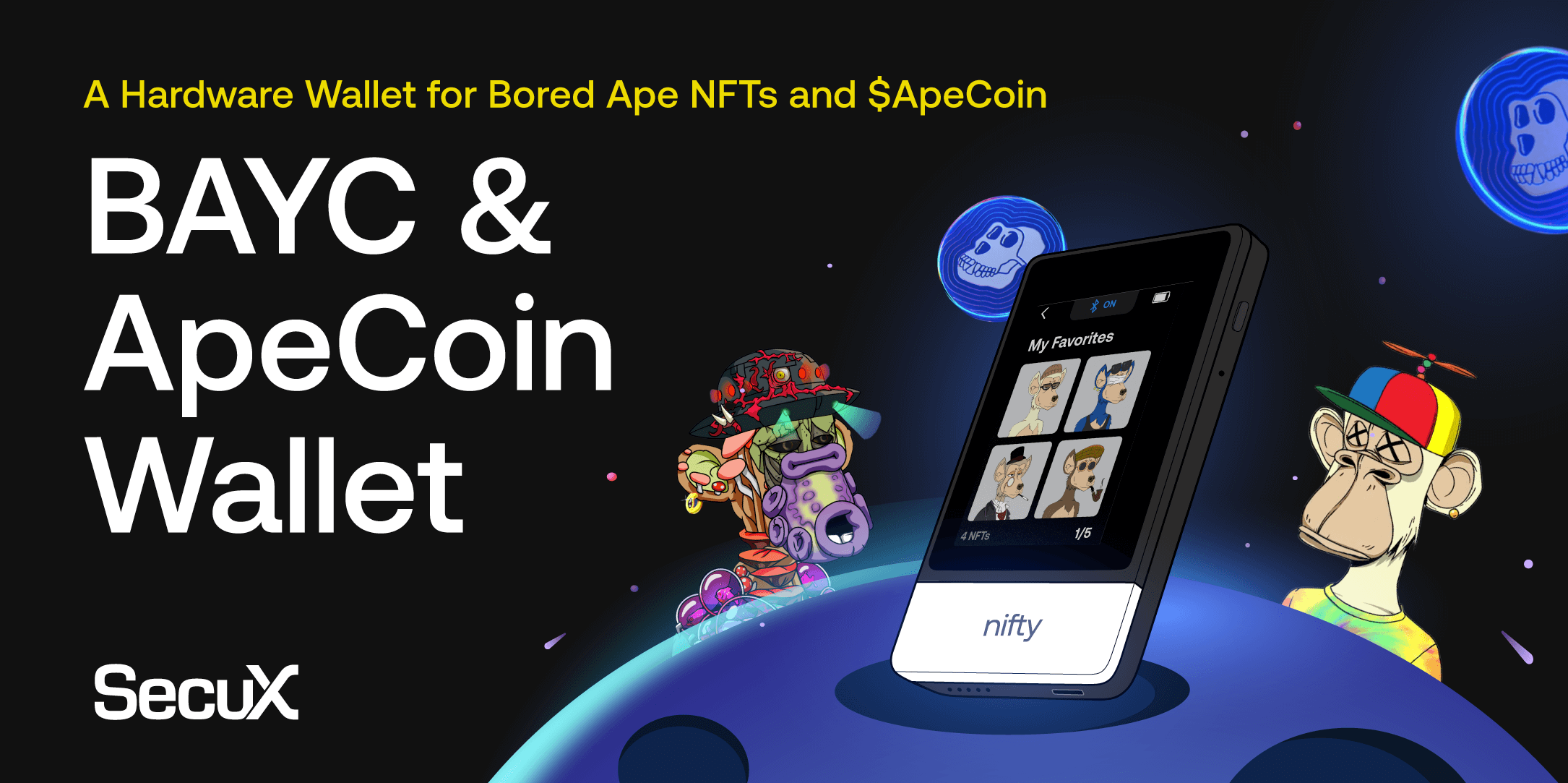 Bored Ape NFT storage. ApeCoin cryptocurrency storage. All available in one military-grade hardware wallet for digital assets.
As we've recently written, participation in the ownership economy of digital assets like NFTs is rife with hacks, scams and more. Protecting your assets is measurably invaluable with blue chip NFT projects like that of Bored Ape Yacht Club by Yuga Labs, which features 10,000 unique digital collectibles living on the Ethereum blockchain.
That being said, have you heard of the newest crypto asset to the BAYC ecosystem–the top 40 crypto asset (by market cap) called ApeCoin?
While consumers and companies alike are jumping on the bandwagon in the race to create their own original NFTs that lead the industry, few entities outside of the current asset holders are digging into how ApeCoin enhances the Bored Ape community.
In this article, we're going to get to know what the Bored Ape Yacht Club project is, explain about the Otherside metaverse, and cover how SecuX has you covered for any of your Bored Ape digital assets.
Let's go!
Table of Contents
What is 'Bored Ape Yacht Club', anyways?
The Bored Ape Yacht Club, known as BAYC for short, is an exclusive collection of NFTs that provides access to an ever-expanding ecosystem of unique, digital excellence.
Each BAYC NFT acts as the holder's 'Yacht Club membership card, and grants access to members-only benefits…[including] future areas and perks that can be unlocked by the community through roadmap activation'.
Not bad in terms of value creation, right?
The BAYC has 10,000 unique NFTs of variations on grumpy looking apes, each one with unique characteristics generated by an AI algorithm that combined thousands of individual characteristic art designs created by the small, core team of artists onboard this ship.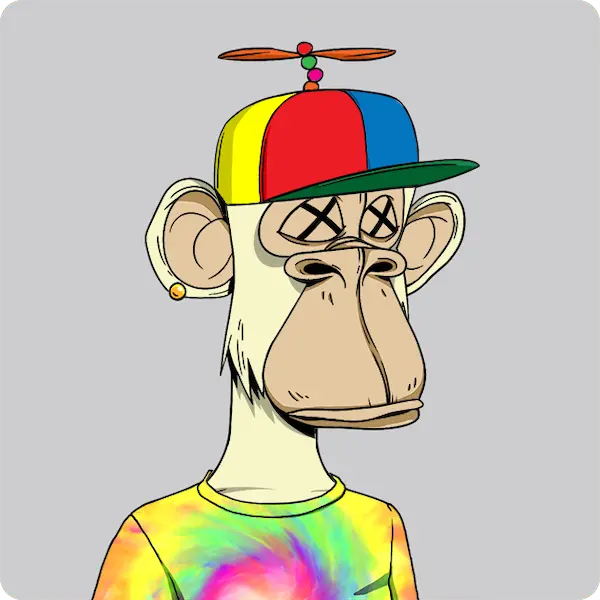 In essence, these 10,000 apes share the same "DNA" which brings their holders together in a tight-knit community!
The BAYC NFT project was created by Yuga Labs, and was started by Gordon Goner, Sass, Emperor Tomato Ketchup, and Gargamel.
How the Bored Ape project has evolved over time
It's fascinating to note that the Bored Ape NFT collection, now one of the most sought-after collections in the world, struggled to sell out their initial mint. At the time, they were on sale for $300 each, but as of August 2022, they have a floor price of ~$122,000!
When the BAYC started gaining real traction, turning incredible profits in the millions, the owners decided to expand the project and allow more people in. However, the ethos of the NFT club has always been exclusivity.
The more people that seek a limited asset like Bored Ape NFTs, the more valuable they become!
Thus gave birth to the Mutant Ape Yacht Club (MAYC) NFT collection:, a set of 20,000 mutant versions of the original 10,000 apes!
While 10,000 Mutant Apes were sold to the public, the other 10,000 were given in the form of "serums"–transitional, temporary NFTs–airdropped directly to the wallet addresses of the holders of the original Bored Ape NFTs!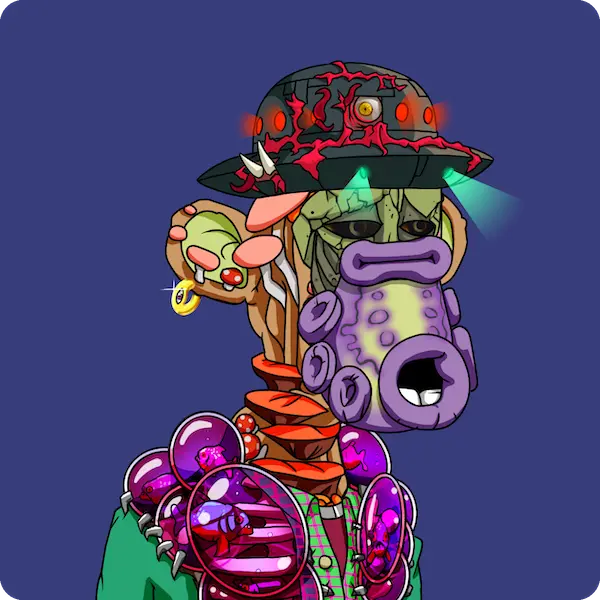 If you'd have thought that was end of the value creation by the Yuga Labs team, you would have been wrong. Additionally, they released the Bored Ape Kennel Club NFT collection. These 9,602 pups act as pets to the original Bored Ape characters, and were offered to BAYC NFT holders too!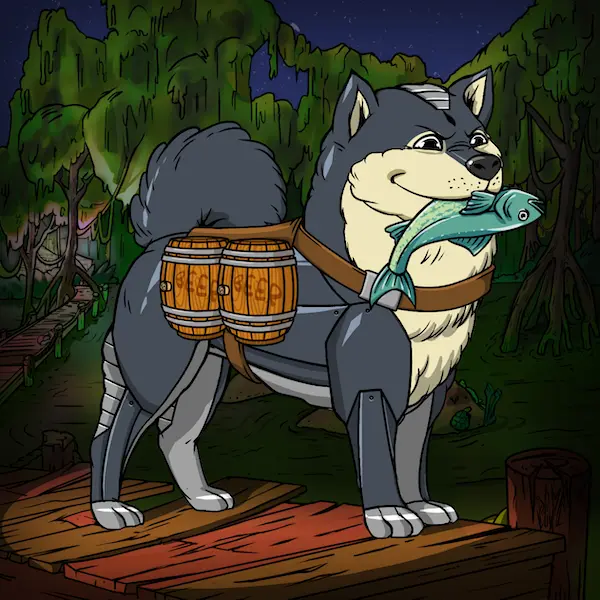 Think we're done? Nope, not yet!
The next release by Yuga represented an expansion of their vision for the ecosystem for which all of compatible NFTs could live and interact. By the name of Otherside, Yuga has released their own, modern take on the classic MMORPG game genre.
Owners of 'Otherdeeds', or 'rights' to plots of land (in NFT form, of course!) in the Otherside metaverse, can have access to mine its resources, chill out, talk to other club members, and much, much more.
Look no further than the August 2022 Video Music Awards performance between Eminem and Snoop Dogg where they flaunt their Bored Ape Yacht Club NFTs during their digital performance–right from the Otherside metaverse stage!:
What sets Bored Ape Yacht Club apart from other NFT projects?
When NFTs were first released, people were confused about how owning a digital asset could possibly be valuable in real life. We could go into the investment and IP ownership side of NFTs, but that's not what sets the BAYC collection apart.
Outside of the trailblazing nature of airdropping additional valuable NFTs to holders of the original collectibles, the real uniqueness of the BAYC collection is the exclusive club with real-life perks that Yuga Labs has created for owners.
Firstly, the fact that there are finite NFTs available means the club will always remain exclusively accessed, and any subsequent drops – merchandise, new NFT projects, and more will only be accessible with the ownership of a BAYC NFT. That hugely drives up the value of owning this particular non-fungible asset.
Secondly, Yuga Labs has made it their priority to create real life perks for their members. These have included a party on a yacht, and even a warehouse concert for 1000-2000 of the BAYC members! There's even talk of a real-life clubhouse being built in Miami for members to come and relax, much like a traditional yacht club.
We have no doubt that the perks will keep rolling in for BAYC members.
What is the purpose of ApeCoin?
If you haven't been able to tell by now, the Yuga Labs team is constantly innovating. That brings us to ApeCoin (ticker: $APE).
If BAYC is a new state, ApeCoin is its currency.
Unlike the NFTs which are unique to their holders, ApeCoin can be bought by the general public. However in true BAYC fashion, they gifted their loyal members with some ApeCoin of their own – a true show of their mission to create a tight-knit community.
The ApeCoin cryptocurrency allows people without BAYC membership to access some of the perks.
ApeCoin serves two main functions:
Buys access to games, perks, merchandise, and other in-world assets
Serves as the governance token to vote on the Bored Ape Yacht Club DAO and have your say in the future of the protocol
However, like with all cryptocurrency, it's not without its risks. Taking serious security measures is certainly an imperative for holders of this NFT collection.
Yuga Labs' warning & what you can do
On July 18, 2022, Yuga Labs tweeted a warning to their followers.
In their own words, "persistent" security threats had been detected and BAYC members may be targeted.
Understandably, this sounds scary. After all, those who've stacked ApeCoin and BAYC, MAYC, BAKC & Otherdeeds have portfolios worth a lot of money.
Luckily, there are ways to protect yourself from attacks on your NFT attacks and from cryptocurrency hacks.
Our answer: NFT-enabled cryptocurrency wallets. Let's walk through the solutions we've carefully constructed for the Web3 community.
NFT wallets for Bored Apes
While many use software wallet solutions, which we've covered extensively in past blog posts, we would expect (and hope!) that holders of any Yuga Labs NFTs or crypto tokens would opt for maximum security via a trusty hardware wallet.
Having a dedicated hardware wallet ensures your NFTs are safely stored at all times!
As we recently announced the launch of the SecuX Nifty at the Bitcoin 2022 Conference in Miami, our NFT wallet is designed to keep your own personalized gallery of NFTs safe.
The SecuX Nifty also acts a conduit for direct access to any NFT marketplace, so you can be sure your digital assets are in good hands (your own!).
A cryptocurrency hardware wallet that protect your NFTs too?!
Not everyone has an NFT to call their own, and in the case of BAYC, there are many ApeCoin holders without an original Yuga NFT.
So, how can they best protect their digital asset portfolio?
Well, SecuX offers powerful crypto storage through their hardware wallets–including Infineon CC EAL5+ certified Secure Element chips.
The V20, W20, and W10, all pack incredible security for your crypto to ensure your money stays safe from any online attacks!
However, did you know that these wallets are also now compatible with ERC-721 and ERC-1155 standards?
This means that yes, with any of the SecuX V20, W20 and W10 wallets, alongside the SecuXess web application via USB or the SecuX Mobile App, you can store your cryptocurrency holdings and manage NFT assets from a single device!
We love making cryptocurrency storage incredibly easy, and we hope you do too!
Protect your digital assets
The BAYC and all its subsidiaries are hot commodities, and you don't want to lose them because of malicious actors.
Take chance out of their hands and place it in your own. Consider storing your Bored Ape Yacht Club NFTs and ApeCoins on a SecuX wallet today!
Have any questions? Contact us here.