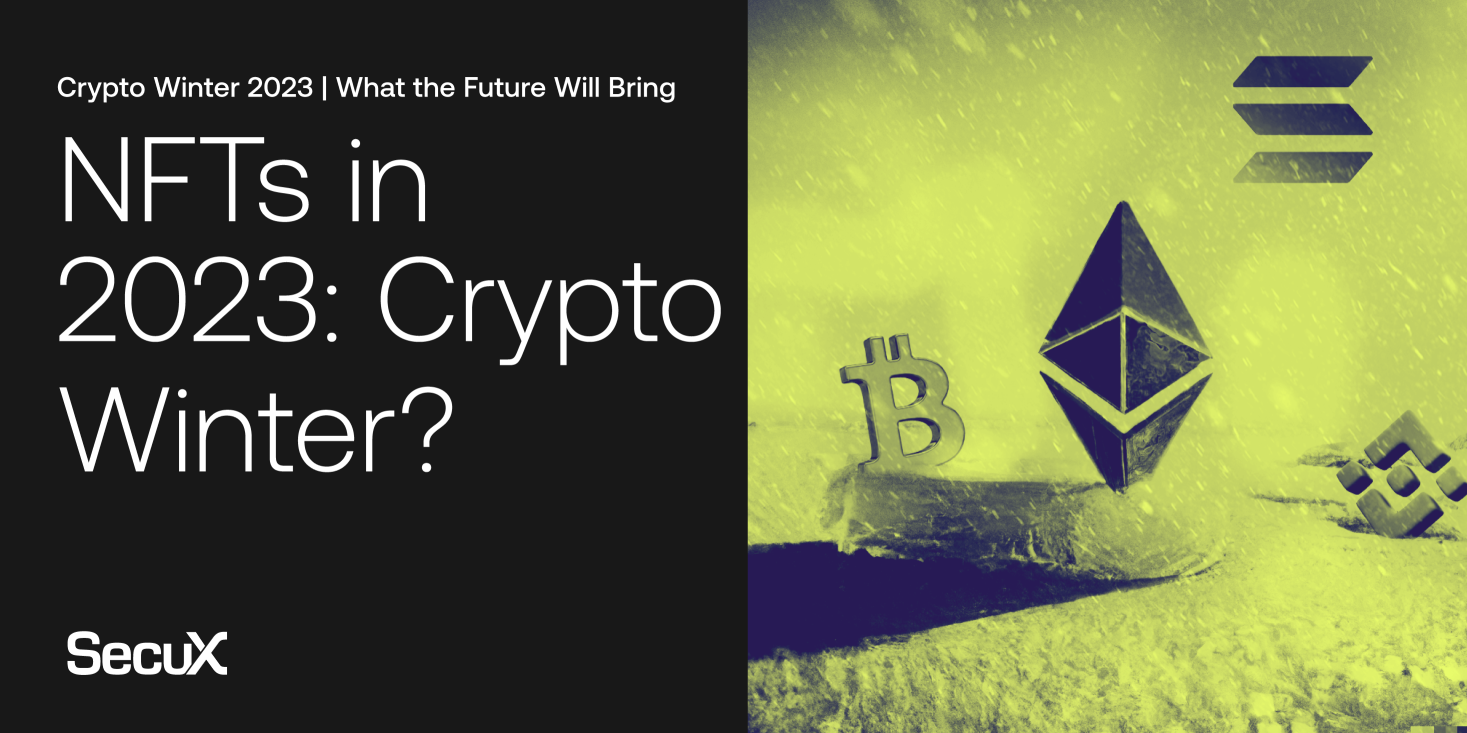 Whether you're looking to get into crypto or already hold digital assets, it's no secret that crypto is in a bit of a funk. The crypto market has been hit hard in 2022 despite seeing a boom in the previous couple of years. Crypto companies and crypto investors are undoubtedly weary of the slump and are looking for the light at the end of the tunnel. Will it arrive this year? We'll see.
Table of Contents
NFTs in 2023: Are We Out of the Crypto Winter?
What is the Crypto Winter?
Generally speaking, "Crypto Winter" refers to a prolonged period of pessimistic outlook and falling prices in the cryptocurrency market. A Crypto Winter refers to a reduction in demand for cryptocurrencies, which lowers their value.
We first saw the phrase a few years ago to describe the period of market collapse that came after the bull run (great crypto value increase) of late 2017 and early 2018, when the cost of Bitcoin and many other cryptocurrencies fell sharply. The market went through a big decline at that time as many crypto businesses fought to survive.
How Did It Happen?
Crypto Winters can happen for a number of reasons, including crypto regulation ambiguity, security issues, and market speculation. The crypto markets took a tumble in 2018 due to these reasons, but the one we just experienced is largely due to a global economic downturn that not only impacted the crypto market, but also the financial markets.
We also saw the FTX bankruptcy, the collapse of the once reputable crypto exchange contributed to the loss of faith in digital assets. Crypto, as of now, is still highly unregulated and first gained attention for being the answer to decentralized finance. Although now governments are looking for ways to control crypto transactions.
Decentralized cryptocurrency exchanges and decentralization, in general, are things blockchain technology promotes. Aside from perks such as lower transaction fees and faster speeds compared to centralized crypto exchanges, there are drawbacks to decentralization. One of which is the lack of intermediaries and protective guidelines. This makes it easier for people to get away with fraud and difficult for them to be penalized.
Cryptocurrency is also tied to non-fungible tokens (NFTs), which have seen their fair share of scams and rug pulls (creators making off with investors' money and offering nothing in return) that spread further trepidation in the crypto community. Is there a way out of this bear market?
How Long Will It Last?
The future is unwritten and with the global economy possibly heading toward a great recession, there is no guarantee for the future of crypto. However, many experts believe that the winter will definitely last through this year and possibly 2024. Most believe that we won't be seeing any relief until 2025.
The Future of Crypto
The crypto industry is more than just the currency. As we mentioned, it expands into NFTs, gaming, and more, giving investors a lot of options. Although we don't know when the crypto winter will end, we do know what part of the industry is flourishing more than the rest and what we can reasonably expect to happen in terms of regulations.

Improved Cybersecurity
As we saw last year, crypto can be susceptible to hacks and scams, with many people, celebrities included, losing digital assets. There is no question that we will see a ramp-up in cybersecurity as crypto companies and investors look for better ways to keep vulnerabilities at bay.
Where you conduct transactions and how to store digital assets can make a world of difference in terms of security. SecuX's crypto wallets are designed to prioritize safety and security first. Store your assets in our hardware wallets with peace of mind, knowing that only you have access.
The Rise of Blockchain Gaming and NFTs
Who doesn't love games? We're seeing rapid growth in blockchain gaming with metaverses and in-game NFT tokens gaining support from major brands and industry titans such as the NFL, NBA, Starbucks, Adidas, Nike, and more.
Increased Regulation
While we can speculate high growth in certain areas, the government can too. This is why we also predict regulations coming down the pipeline. Some countries are more crypto-friendly than others, but we do expect laws in some form to be implemented in the future regardless of geography.
Is Crypto Here to Stay?
In our opinion, yes. Crypto is here to stay. Some major companies such as Burger King and Subway are incorporating cryptocurrency payments into their systems. As we see further worldwide adoption, we believe the future is bright.
Hindsight is 20/20 and crypto bear markets in the past have weeded out the unstable and dishonest business operations of organizations – a silver lining to the bleak crypto winter.
Conclusion
The crypto winter is disheartening but there is an end in sight. We are seeing more adoption within reputable companies and governments as well. View it as a reset before cryptocurrency comes back in full force with increased and improved security, trust and utility.
Store your assets in hardwallets like our V20, W20, W10 and SecuX Nifty cold wallets to avoid the impact of potential crypto exchange crashes and hacks.
Related Articles:
Sources: