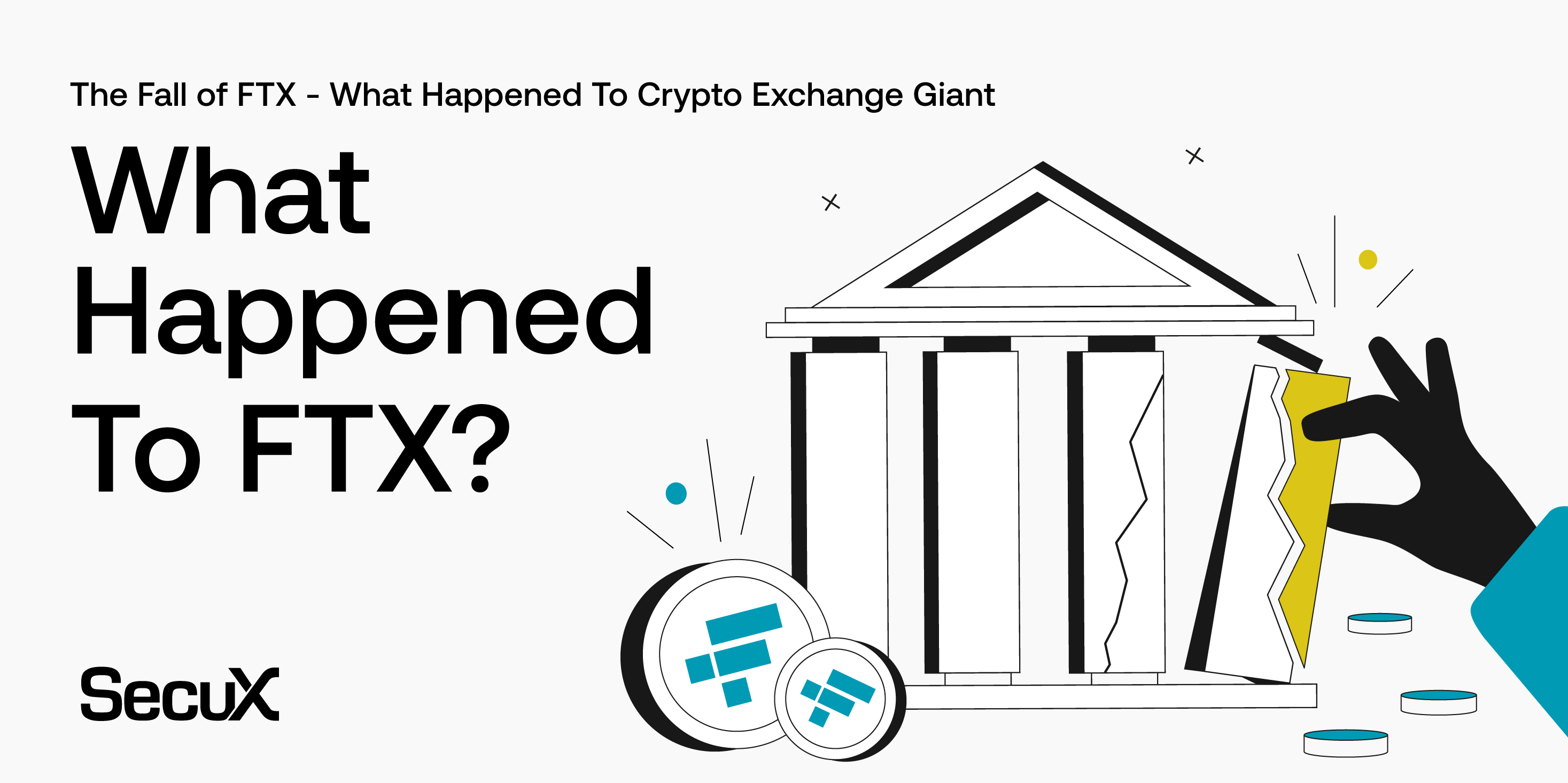 The fall of FTX, a famed cryptocurrency exchange was a downward spiral that occurred in a little over a week. The spectacular failure attracted the eyes of the world as the CEO was charged with multiple counts of fraud. Let's explore the downfall of what was once one of the largest cryptocurrency exchanges.
Table of Contents
What is FTX?
FTX is a cryptocurrency exchange that was launched in 2019. Aside from being a crypto exchange, it also offers a variety of other products, including options trading and index tracking. It was the third-largest cryptocurrency exchange up until recently.
FTX is considered a centralized exchange, which means that it serves as an intermediary (mediator or go-between) for buyers and sellers. This makes sure both parties can conduct transactions in a secure and regulated environment. The crypto exchange FTX has low fees, high liquidity and is efficient, making it popular among professional traders and those just getting into crypto.
Who is Sam Bankman-Fried?
CEO Sam Bankman-Fried (SBF) is an entrepreneur who founded the trading firm Alameda Research, back in September 2017. Fast-forward to two years later, SBF founded the cryptocurrency exchange FTX.
While there is no doubt about Sam Bankman-Fried's business acumen, he also became a figure of great contention in Nov of 2022. The collapse of FTX happened in a short 10 days due to a report by CoinDesk.
Overview of the FTX Collapse
Here's our TLDR breakdown of the whole debacle.
CoinDesk is a crypto news website that broke a story about Alameda Research, detailing that, at the time, the company was worth about $5 billion FTT (FTX's native token). This alarmed many investors as the valuation was not in fiat (legal physical money created by governments).
What later surfaced was that CEO Sam Bankman-Fried and his business partners were covering trading losses with customers' FTX assets, leading to civil and criminal charges.
FTX's Collapse – The Full Breakdown
After the CoinDesk report came to light and caused panic among investors and clients alike, the founder of Binance, Chang Peng Zhao (CZ) announced that he would be selling over half a million worth of FTT, which became the catalyst to a sell-off across the board. The sell-off plummeted the coin's worth and FTX had to pause withdrawals.
Frantically trying to save his company, Bankman-Fried reached out to venture capitalists for a lifeline, which at the time happened to be CZ. However, after careful due diligence, Zhao backed out of the deal stating that FTX had mishandled customer funds. Allegations caused the Securities and Exchange Commission (SEC) and the Justice Department to run their own investigations into FTX's conduct.
With nowhere left to turn, Bankman-Fried handed in his resignation and filed for bankruptcy on Nov 11. The court appoints a stand-in CEO, John Ray, who ended up in the position for a short four weeks. New FTX CEO Ray set out to restructure the exchange.
Ray stated to the House Financial Services Committee that there was "gross mismanagement" and "failure of internal controls" in his investigation into the company.
Having property and residing in the Bahamas at the time, the Bahaman government arrests Sam Bankman-Fried and he was eventually extradited back to the U.S. on Dec 12 of 2022. 10 days later Bankman-Fried was released on a $250 million bond, the largest amount in history.
Charges Against Sam Bankman-Fried
Sam Bankman-Fried faces multiple charges alleged against him and the whole fiasco is considered one of the "largest financial crimes" in the history of the country, according to the U.S. Attorney of the Southern District of New York, Damian Williams. The list of charges against the former CEO include wire fraud and money laundering.
Separately, the SEC accuses Bankman-Fried of defrauding investors by diverting FTX funds to Alameda Research, and therefore inflating Alameda's asset value. The Commodity Futures Trading Commission also lobbed fraud charges into the mix, which stated that FTX lied about commodity sales.
Celebrity "brand ambassadors" have also been dragged into lawsuits claiming they endorsed Sam Bankman-Fried's plan. Some celebrities named include Naomi Osaka, Shaquille O'Neal, Tom Brady, Kevin O'Leary and Larry David.
Although he is released on a hefty bond, Bankman-Fried is confined within his parents' Palo Alto home with an electric monitoring bracelet. He is not to leave the NorCal area.
In a newer development, on Jan 3, 2023, the former FTX CEO pleaded "not guilty" to all criminal charges against him and will stand trial in October this year.
The Future of FTX
It's no secret that the collapse of FTX came swiftly, but what does this mean for the exchange and its founder?
The FTX website is no longer operational at the point of writing, with only a link leading to a restructuring case. What happened with FTX further strengthens anti-crypto arguments about a decentralized system without traditional financial regulations. It's possible that the event will discourage new investors and disappoint existing ones.
The SEC could also see the fall of FTX as an opportunity to tighten regulations surrounding crypto operations with more laws put in place by governments around the world.
The deterioration of the FTX exchange also created a ripple effect, causing withdrawals to spike with other exchanges such as Crypto.com.
There is no doubt that the cryptocurrency community is on edge after FTX's failure, the future for crypto as a whole is still unwritten. This could be a learning opportunity for investors to be more mindful of their digital assets and perhaps to not keep their crypto assets on an exchange, and rather in a secure hardware wallet
Conclusion
Sam Bankman-Fried awaits his trial later this year on October 2nd. At the moment, he pleads not guilty to fraud charges, and the world eagerly awaits to see how the case unfolds. Many members of the public, investors, and even sitting House members would like Bankman-Fried to be held accountable.
Related Articles:
Sources: