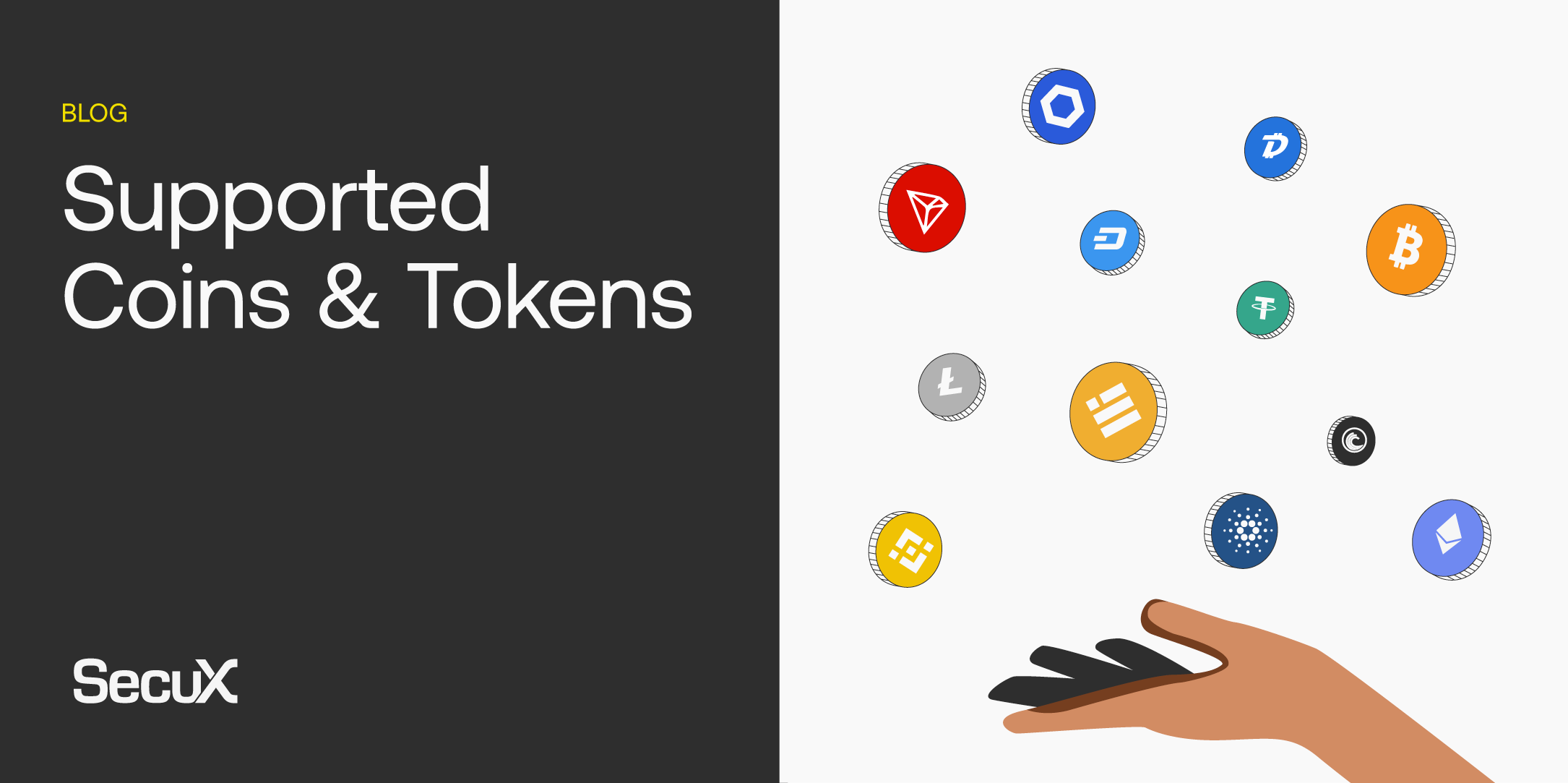 Hello SecuX Users!
Hope all of you are staying safe amidst the pandemic.
Officially, SecuX supports 1000+ coins and tokens. That is a lot of coins and tokens.
Today, we are going to list all of the coins and tokens that SecuX wallets currently support.
Besides the big players in the cryptocurrency field, Bitcoin and Ethereum, we also support the following: Bitcoin Cash (BCH), Litecoin (LTC), Ripple (XRP), Groesltcoin (GRS), Stellar (XLM), Binance (BNB), DigiByte (DGB), Dashcoin (DASH), Dogecoin (DOGE), Cardano (ADA), and Tron (TRX).
To help you add the coin accounts in your wallet, we have written a step-by-step guide in our "How It Works" section:
Web: https://secuxtech.com/howitworks/add-accounts-on-secuxess-web-app/
Mobile: https://secuxtech.com/howitworks/add-accounts-on-secux-mobile-app/
We also support the tokens that are created and hosted on the Ethereum (ERC-20) network , Binance Smart Chain (BEP-20), and Tron (TRC-10 and TRC-20) network.
To add the tokens on the token list, please follow the step-by-step guides in our "How It Works" section:
ERC-20:
BEP-20:
TRC-10 and TRC-20:
The excerpt explains that BEP-20 and TRC tokens can only be accessed through a web interface, Android, or your wallet. It's important to note that if you hold Cardano, it can only be accessed via the SecuXess Web Application. While a hardware wallet like the SecuX device can be used for verifying and authorizing transactions, your ADA portfolio will not be visible on the device. This highlights the different types of wallets that exist for managing and securing cryptocurrencies, including hardware wallets, cold wallets, and crypto wallets. Hardware wallets are a type of cold wallet that stores your private keys offline and offers extra security, while crypto wallets refer to any digital wallet used to hold and manage cryptocurrencies. It's important to choose the right type of wallet based on your needs to ensure the safety and security of your digital assets.
List of Supported Cryptocurrencies
NAME
Web
iOS
Android
SecuX Wallets
Bitcoin (BTC)
✓
✓
✓
✓
Bitcoin Cash (BCH)
✓
✓
✓
✓
Ethereum (ETH)
✓
✓
✓
✓
ERC-20
✓
✓
✓
✓
Litecoin (LTC)
✓
✓
✓
✓
Ripple (XRP)
✓
✓
✓
✓
Groesltcoin (GRS)
✓
✓
✓
✓
Stellar (XLM)
✓
✓
✓
✓
Binance (BNB)
✓
✓
✓
✓
DigiByte (DGB)
✓
✓
✓
✓
Dashcoin (DASH)
✓
✓
✓
✓
Dogecoin (DOGE)
✓
✓
✓
✓
Cardano (ADA)
✓
✕
✓
Address and transaction confirmation ONLY
Tron (TRX)
✓
✕
✓
✓
TRC-10
✓
✕
✓
✓
TRC-20
✓
✕
✓
✓
Binance Smart Chain (BSC)
✓
✕
✓
✓
BEP-20
✓
✕
✓
✓
Ethereum ERC-20 tokens
See full list of supported ERC-20 tokens here
ERC-20
✓
✓
✓
✓
Tether USD (USDT)
BNB (BNB)
USD Coin (USDC)
HEX (HEX)
Binance USD (BUSD)
Uniswap (UNI)
ChainLink Token (LINK)
Wrapped BTC (WBTC)
Dai Stablecoin (DAI)
Compound USD Coin (cUSDC)
Wrapped Filecoin (WFIL)
OKB (OKB)
TRON (TRX)
Compound Dai (cDAI)
Aave Token (AAVE)
Compound Ether (cETH)
Graph Token (GRT)
Amp (AMP)
Crypto.com Coin (CRO)
Bitfinex LEO Token (LEO)
Maker (MKR)
Celsius (CEL)
Compound (COMP)
Wrapped UST Token (UST)
Quant (QNT)
BitTorrent (BTT)
stETH (stETH)
HuobiToken (HT)
SushiToken (SUSHI)
Synthetix Network Token (SNX)
Huobi BTC (HBTC)
chiliZ (CHZ)
EnjinCoin (ENJ)
TrueUSD (TUSD)
yearn.finance (YFI)
HoloToken (HOT)
FirstBlood (ST)
Telcoin (TEL)
Zilliqa (ZIL)
Nexo (NEXO)
BAT (BAT)
XinFin XDCE (XDCE)
Paxos Standard (PAX)
Decentraland (MANA)
Wrapped Decentraland MANA (wMANA)
Bancor (BNT)
KuCoin Token (KCS)
HarmonyOne (ONE)
Compound USDT (cUSDT)
SwissBorg (CHSB)
ZRX (ZRX)
NXM (NXM)
Voyager (VGX)
Fantom Token (FTM)
OMG Network (OMG)
Aave interest bearing CRV (aCRV)
Curve DAO Token (CRV)
IOSToken (IOST)
UMA Voting Token v1 (UMA)
HUSD (HUSD)
renBTC (renBTC)
Wrapped Celo (wCELO)
SAND (SAND)
1INCH Token (1INCH)
Pundi X Token (PUNDIX)
Livepeer Token (LPT)
Fei USD (FEI)
Golem Network Token (GLM)
LoopringCoin V2 (LRC)
StatusNetwork (SNT)
Paxos Gold (PAXG)
Wootrade Network (WOO)
Numeraire (NMR)
Gnosis (GNO)
Compound Uniswap (cUNI)
BitMax token (BTMX)
Digital asset trading platform
Fetch (FET)
Frax (FRAX)
Gemini dollar (GUSD)
OriginToken (OGN)
Dawn (DAWN)
WAX Token (WAX)
RLC (RLC)
AlphaToken (ALPHA)
Balancer (BAL)
DENT (DENT)
Polymath (POLY)
Rocket Pool (RPL)
Ocean Token (OCEAN)
ALICE (ALICE)
UniBright (UBT)
BandToken (BAND)
Energy Web Token Bridged (EWTB)
Injective Token (INJ)
FunFair (FUN)
Synth sUSD (sUSD)
Token Prometeus Network (PROM)
StormX (STMX)
Orbs (ORBS)
DODO bird (DODO)
Melon Token (MLN)
EthLend (LEND)
Chroma (CHR)
CelerToken (CELR)
Orchid (OXT)
Kyber Network Crystal v2 (KNC)
AIOZ Network (AIOZ)
Tribe (TRIBE)
Illuvium (ILV)
KyberNetwork (KNC)
Storj (STORJ)
MCO (MCO)
Ampleforth Governance (FORTH)
WPPToken (WPP)
Smooth Love Potion (SLP)
Aragon Network Token (ANT)
Metal (MTL)
KEEP Token (KEEP)
PAID Network (PAID)
Ankr Eth2 Reward Bearing Certificate (aETHc)
ELF (ELF)
PowerLedger (POWR)
QuarkChain Token (QKC)
ZEON (ZEON)
Gitcoin (GTC)
STASIS EURS Token (EURS)
Bytom (BTM)
LockTrip (LOC)
Crypto20 (C20)
Frax Share (FXS)
Trace (TRAC)
Divi Exchange Token (DIVX)
Kin (KIN)
Wrapped NXM (wNXM)
Lido DAO Token (LDO)
Mainframe Token (MFT)
Populous (PPT)
UnFederalReserveToken (eRSDL)
Pinakion (PNK)
Litentry (LIT)
Rari Governance Token (RGT)
Mask Network (MASK)
CarryToken (CRE)
BetProtocolToken (BEPRO)
Tellor Tributes (TRB)
Function X (FX)
Automata (ATA)
pTokens BTC (pBTC)
DIAToken (DIA)
DATAcoin (DATA)
OCC (OCC)
bZx Protocol Token (BZRX)
STPT (STPT)
Hegic (HEGIC)
LON Token (LON)
MXCToken (MXC)
SENTINEL PROTOCOL (UPP)
LGO Token (LGO)
Parsiq Token (PRQ)
Yuan Chain New (YCC)
TrueFi (TRU)
Wrapped Celo USD (wCUSD)
Refereum (RFR)
Covalent Query Token (CQT)
Covalent Token (COVA)
Quickswap (QUICK)
Marlin POND (POND)
Spice (SFI)
Rarible (RARI)
Bluzelle (BLZ)
Sai Stablecoin v1.0 (SAI)
XY Oracle (XYO)
Aergo (AERGO)
Student Coin (STC)
Request (REQ)
dForce (DF)
CargoX (CXO)
MANTRA DAO (OM)
Dock (DOCK)
DGD (DGD)
BTU Protocol (BTU)
Darwinia Network Native Token (RING)
Metronome (MET)
STAKE (STAKE)
PlatonCoin (PLTC)
Dusk Network (DUSK)
NimiqNetwork (NET)
mStable USD (mUSD)
Dragon (DRGN)
SENTinel (SENT)
Nuls (NULS)
Shyft [ Wrapped ] (SHFT)
ViteToken (VITE)
Guaranteed Entrance Token (GET)
Bifrost (BFC)
Veritaseum (VERI)
VesperToken (VSP)
UniLend Finance Token (UFT)
USDK (USDK)
TORN Token (TORN)
Ultiledger (ULT)
Shopping.io (SPI)
Frontier Token (FRONT)
PoolTogether (POOL)
DSLA (DSLA)
XSGD (XSGD)
BitMartToken (BMC)
DEXTools (DEXT)
CocosToken (COCOS)
WaykiCoin (WIC)
Moss Coin (MOC)
Switcheo Token (SWTH)
Morpheus.Network (MRPH)
ZBToken (ZB)
LCX (LCX)
HOPR Token (HOPR)
BLOCKv (VEE)
Armor (ARMOR)
BOSAGORA (BOA)
QASH (QASH)
FOX (FOX)
Dogelon (ELON)
Cortex Coin (CTXC)
Aurora DAO (AURA)
AirSwap (AST)
IceToken (ICE)
Quantstamp (QSP)
pNetwork Token (PNT)
Meta (MTA)
ERC20 (ERC20)
Sentivate (SNTVT)
Cindicator (CND)
ICONOMI (ICN)
Gifto (GTO)
BZ (BZ)
Cashaa (CAS)
Route (ROUTE)
Salt (SALT)
Cardstack (CARD)
SelfKey (KEY)
Empty Set Dollar (ESD)
Darico Ecosystem Coin (DEC)
All Sports Coin (SOC)
0chain (ZCN)
UNIC (UNIC)
RED MWAT (MWAT)
Lambda (LAMB)
QRL (QRL)
Raiden (RDN)
TE-FOOD/TustChain (TONE)
Dentacoin (Dentacoin)
LikeCoin (LIKE)
Launchpool token (LPOOL)
Float Bank (BANK)
Proton (XPR)
Lamden Tau (TAU)
Walton (WTC)
Morpheus Infrastructure Token (MITx)
ZTCoin (ZT)
Spendcoin (SPND)
Oiler (OIL)
Measurable Data Token (MDT)
Tranche Finance (SLICE)
veCRV-DAO yVault (yveCRV-DAO)
StackOS (STACK)
SAN (SAN)
Coinvest COIN V3 Token (COIN)
Tidal Token (TIDAL)
Genesis Vision (GVT)
TokenClub Token (TCT)
Nebulas (NAS)
Fractal Protocol Token (FCL)
CRPT (CRPT)
OVR (OVR)
Adshares (ADST)
Matryx (MTX)
Oraichain Token (ORAI)
Pendle (PENDLE)
MEDX TOKEN (MEDX)
UTN-P: Universa Token (UTNP)
InsurAce (INSUR)
TIME (TIME)
Atomic Wallet Token (AWC)
CashBetCoin (CBC)
QNTU (QNTU)
BHPCash (BHPC)
KAN (KAN)
dHedge DAO Token (DHT)
FOAM Token (FOAM)
UnmarshalToken (MARSH)
Propy (PRO)
Moeda Loyalty Points (MDA)
ETERNAL TOKEN (XET)
ELYSIA (EL)
BAX (BAX)
AMLT (AMLT)
Blockport (BPT)
+more (See full list of supported ERC-20 tokens here)
Tron TRC-10 and TRC-20 tokens
NAME
Web
iOS
Android
SecuX Wallets
TRC-10
✓
✕
✓
✓
BitTorrent (BTT)
PlayAndLike (PAL)
TronEuropeRewardCoinPro (TERC)
TRC-20
✓
✕
✓
✓
Wrapped TRX (WTRX)
Wrapped BTT (WBTT)
Bitcoin (BTC)
Wrapped BTC (WBTC)
Ethereum (ETH)
Tether USD (USDT)
WINK (WIN)
JUST Stablecoin (USDJ)
JUST (JST)
SUN (SUN)
HuobiToken (HT)
HUSD (HUSD)
Bridge Token (BRG)
Klever (KLV)
TronEuropeRewardCoinPro (TERC)
TRONbetLive (LIVE)
TRONbetDice (DICE)
Binance Smart Chain BEP-20 tokens
*If you don't see the BEP-20 tokens on the list, please contact us for further assistance.
NAME
Web
iOS
Android
SecuX Wallets
BSC (BEP-20)
✓
✕
✓
✓
Binance-Peg BTCB Token (BTCB)
Binance-Peg BUSD Token (BUSD)
Prometeus (PROM)
Wrapped BNB (WBNB)
Streamity (STM)
Binance-Peg BUSD-T (USDT)
Binance-Peg ChainLink Token (LINK)
Milk Protocol (MILK)
CanYaCoin (CAN)
Binance-Peg Cardano Token (ADA)
Binance-Peg Band Protocol Token (BAND)
Binance-Peg Bitcoin Cash Token (BCH)
Binance-Peg Dai Token (DAI)
Binance-Peg Polkadot Token (DOT)
Binance-Peg Ethereum Token (ETH)
Binance-Peg Litecoin Token (LTC)
Binance-Peg Ontology Token (ONT)
Binance-Peg XRP Token (XRP)
Binance-Peg Tezos Token (XTZ)
Binance-Peg EOS Token (EOS)
Burger Swap (BURGER)
Raven Protocol (RAVEN)
Ankr (ANKR)
Cubiex (CBIX)
BakeryToken (BAKE)
DOS Network Token BEP20 (DOS)
Binance-Peg Cosmos Token (ATOM)
Binance-Peg YFII.finance Token (YFII)
Binance-Peg Zcash Token (ZEC)
The Force Token (FOR)
Cream (CREAM)
Anyswap-BEP20 (ANY)
InnovativeBioresearchCoin (INNBC)
Cross Finance (CRP)
Propel (PROPEL)
BNB48 Club Token (KOGE)
beefy.finance (BIFI)
PancakeSwap Token (Cake)
AlphaToken (ALPHA)
Venus (XVS)
Binance-Peg Compound Coin (COMP)
Binance-Peg ELF Token (ELF)
Binance-Peg IoTeX Network (IOTX)
Binance-Peg Maker (MKR)
Binance-Peg Token Club (TCT)
Cream Cardano Token (crADA)
THUGS (THUGS)
ROOBEE (bROOBEE)
LTO Network (LTO)
fry.world (FRIES)
Trust Wallet (TWT)
FREE coin BSC (FREE)
Phoswap (PHO)
Swipe (SXP)
Binance-Peg Basic Attention Token (BAT)
Binance-Peg Synthetix Network Token (SNX)
Binance-Peg yearn.finance (YFI)
Binance-Peg Uniswap (UNI)
StableX Token (STAX)
Binance-Peg NEAR Protocol (NEAR)
cheesemaker.farm (CHS)
Jointer (JNTR)
fry.KetchupV2 (KHP)
Binance-Peg Paxos Standard (PAX)
Binance-Peg USD Coin (USDC)
CertiK Token (CTK)
Seven Up Token (7UP)
ACryptoS (ACS)
Binance-Peg PAX Gold (PAXG)
HappinessToken (HPS)
Bunny Token (BUNNY)
MATH Token (MATH)
Binance-Peg Ethereum Classic (ETC)
Binance-Peg Bitcoin Cash ABC (BCHA)
VAI Stablecoin (VAI)
Venus USDC (vUSDC)
Venus USDT (vUSDT)
Venus BUSD (vBUSD)
Venus SXP (vSXP)
Venus XVS (vXVS)
BUX Token (BUX)
Billion Happiness (BHC)
Venus BTC (vBTC)
Venus ETH (vETH)
Venus XRP (vXRP)
Venus LTC (vLTC)
Keep3r BSC Network (KP3RB)
Fuel Token (Fuel)
Reef.finance (REEF)
Venus BCH (vBCH)
Venus LINK (vLINK)
Venus DOT (vDOT)
SafePal Token (SFP)
DeFi For You. (DFY)
Ditto (DITTO)
Genta (GENA)
BSCX (BSCX)
dForce (DF)
Binance Beacon ETH (BETH)
Helmet.insure Governance Token (Helmet)
StandardBTCHashrateToken (BTCST)
JulSwap (JulD)
Wrapped UST Token (UST)
Wrapped MIR Token (MIR)
Bat True Dollar (BTD)
Bat True Share (BTS)
Venus DAI (vDAI)
Venus FIL (vFIL)
Venus BETH (vBETH)
Frontier Token (FRONT)
StaysBASE (SBS)
FlashX Ultra (FSXU)
Linear Token (LINA)
Newscrypto (NWC)
OREO (ORE)
AUTOv2 (AUTO)
Spore Token (SPORE)
Litentry (LIT)
Shield Protocol (SHIELD)
PizzaSwap (PIZZA)
Binance-Peg Dogecoin (DOGE)
DODO bird (DODO)
ArgonToken (ARGON)
Smart Advertising Transaction Token (SATT)
Goose Golden Egg (EGG)
RigelToken (RGP)
Curate on BSC (XCUR)
Chi Gastoken by 1inch (CHI)
Extend Finance (EXF)
Berry Tributes (BRY)
Kiwi Token (KIWI)
Ramen Token (Ramen)
Hakka Finance on xDai on BSC (HAKKA)
1INCH Token (1INCH)
BIDR BEP20 (BIDR)
Standard on xDai on BSC (xMARK)
DEFI 100 (D100)
Contentos (COS)
vSWAP.fi (vBSWAP)
Multiplier (bMXX)
Tree Token (TREE)
Weather (Weather)
Squirrel Finance (NUTS)
Pasta Token (PASTA)
Venus ADA (vADA)
Moeda Loyalty Points (MDA)
UBUToken (UBU)
Antimatter.Finance Mapping Token (MATTER)
ARRANO (ANDX)
//degen.trade/ (DGN)
Nominex (NMX)
Taco (TACO)
AlpacaToken (ALPACA)
VANCI.FINANCE (VANCII)
BELT Token (BELT)
Octree Finance (OCT)
SafeMoon (SAFEMOON)
Perlin (PERL)
Zilliqa (ZIL)
Measurable Data Token (MDT)
Cartesi Token (CTSI)
BSC Conflux (bCFX)
Kindcow Finance (KIND)
Moeda SEEDS (SEEDS)
GFORCE (GFCE)
GourmetGalaxy (GUM)
Fusible | Fusible.io (FUSII)
GoSwapp (GOFI)
Firo (FIRO)
GamyFi (GFX)
OVR (OVR)
RFOX (RFOX)
SakeToken (SAKE)
Ellipsis (EPS)
Elite Swap Binance Token (ELTB)
FinNexus (FNX)
DuckDaoDime (DDIM)
PolkastarterToken (POLS)
Alien Worlds Trilium (TLM)
Torum (XTM)
Torum Finance (XTF)
ClinTex (CTI)
SwftCoin (SWFTC)
BGOV Token (BGOV)
Tokocrypto Token (TKO)
Fuse Token on BSC (FUSE)
BitTorrent (BTT)
TRON (TRX)
WINk (WIN)
Super Launcher (LAUNCH)
Shard (SHARD)
TOZEX (TOZ)
Twinci (TWIN)
ZMINE Token (ZMN)
VFOX (VFOX)
Venus DOGE (vDOGE)
Easy V2 (EZ)
Refinable (FINE)
Venus Reward Token (VRT)
wazirx token (WRX)
CAR (CAR)
DOGGY (DOGGY)
Spartan Protocol Token V2 (SPARTA)
Hot Cross Token (HOTCROSS)
Automata (ATA)
BabyDoge
ARPA