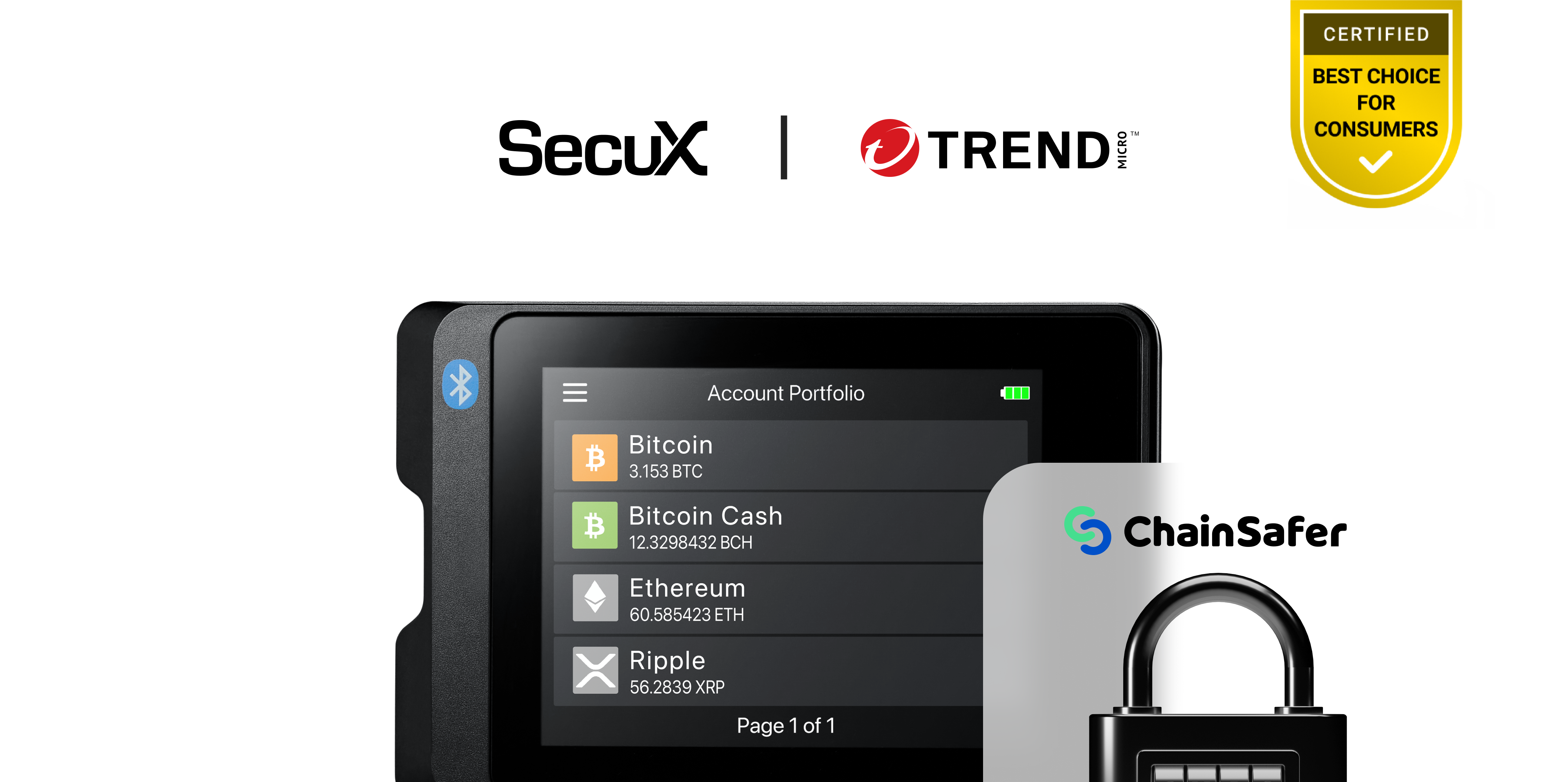 Security is the topmost feature anyone looks for in a crypto wallet. Step into the future of digital asset security with the latest innovation in cryptocurrency protection – the SecuX W20 X Trend Micro hardware wallet. It's not just a wallet, it's a state-of-the-art fortress for your digital assets.
Designed for those who seek safety and efficiency in one package, the SecuX W20 X Trend Micro is a pioneer in digital wallet security as it sets a new benchmark for cryptocurrency wallets.
Table of Contents
SecuX W20 X Trend Micro: The Ultimate Scam-Proof Hardware Wallet for Crypto and NFTs
Spotlight: Trend Micro ChainSafer
The SecuX W20 X Trend Micro is not a standalone marvel. It leverages an unprecedented alliance with Trend Micro's ChainSafer, an integration that will bring secure and high-quality transactions. The AI-powered blockchain security solution alerts you against suspicious activities in real-time.
From private key management to swap-transaction monitoring, the Chainsafer safety feature also enables web2 domain checks, to help users avoid phishing and scams. In the web3 arena, it conducts smart contract analysis for superior security and advanced online protection.
As the world embraces the web3 era, ChainSafer continues to offer unparalleled protection, utilizing sophisticated risk analysis to keep your Web3 assets secure. Through this risk analysis, Chainsafer guarantees transparency to empower you to make safe and informed decisions.
The SecuX W20 X Trend Micro Advantage for Superior Security
The partnership between SecuX W20 and Trend Micro presents unmatched protection. The cutting-edge Secure Element Chip – the Infineon SLE 97 bears the EAL5+ certification. It is this technology that forms the bedrock of our "Offline and Unhackable" aspect, promising impregnable security for your digital assets.
The next layer of security that enhances this crypto wallet is our Hands-on Clear-sign and Dynamic PIN Entry. These features serve as a double shield that ensures your transactions are as secure as they are seamless. You aren't just choosing a crypto wallet with the SecuX W20 X TrendMicro, but a dependable and secure ecosystem that's designed for the digital age.
Noteworthy Features of the SecuX W20 X Trend Micro
The SecuX W20 X Trend Micro brings a distinctive edge to the crypto wallet scene. Not only does it keep your cryptocurrency safe, but it also redefines the user experience. Navigate the functions easily on a large, color touchscreen that provides a clear display of your transactions.
Manage an expansive portfolio with support for over 10,000 coins, tokens, and NFTs. Integrate your wallet seamlessly with both MetaMask and WalletConnect to bridge the gap between your wallet and the wider crypto ecosystem. Enjoy Bluetooth5 and USB Type-C dual connectivity, ensuring your wallet is always ready wherever you are.
The SecuX W20 X Trend Micro User Experience
The SecuX W20 X Trend Micro fuses innovation and comfort to deliver the ultimate user experience. The device is compact, lightweight and crafted from durable plastic designed to withstand the pace of your dynamic lifestyle. The high-resolution display relieves eye strain with superior visual clarity.
The extended battery life keeps up with your long investment hours and our crypto wallet brings a wide range of compatibility. The SecuX W20 X TrendMicro works seamlessly with both mobile and computer systems, catering to diverse user needs.
Comprehensive Safety Measures of SecuX W20 X Trend Micro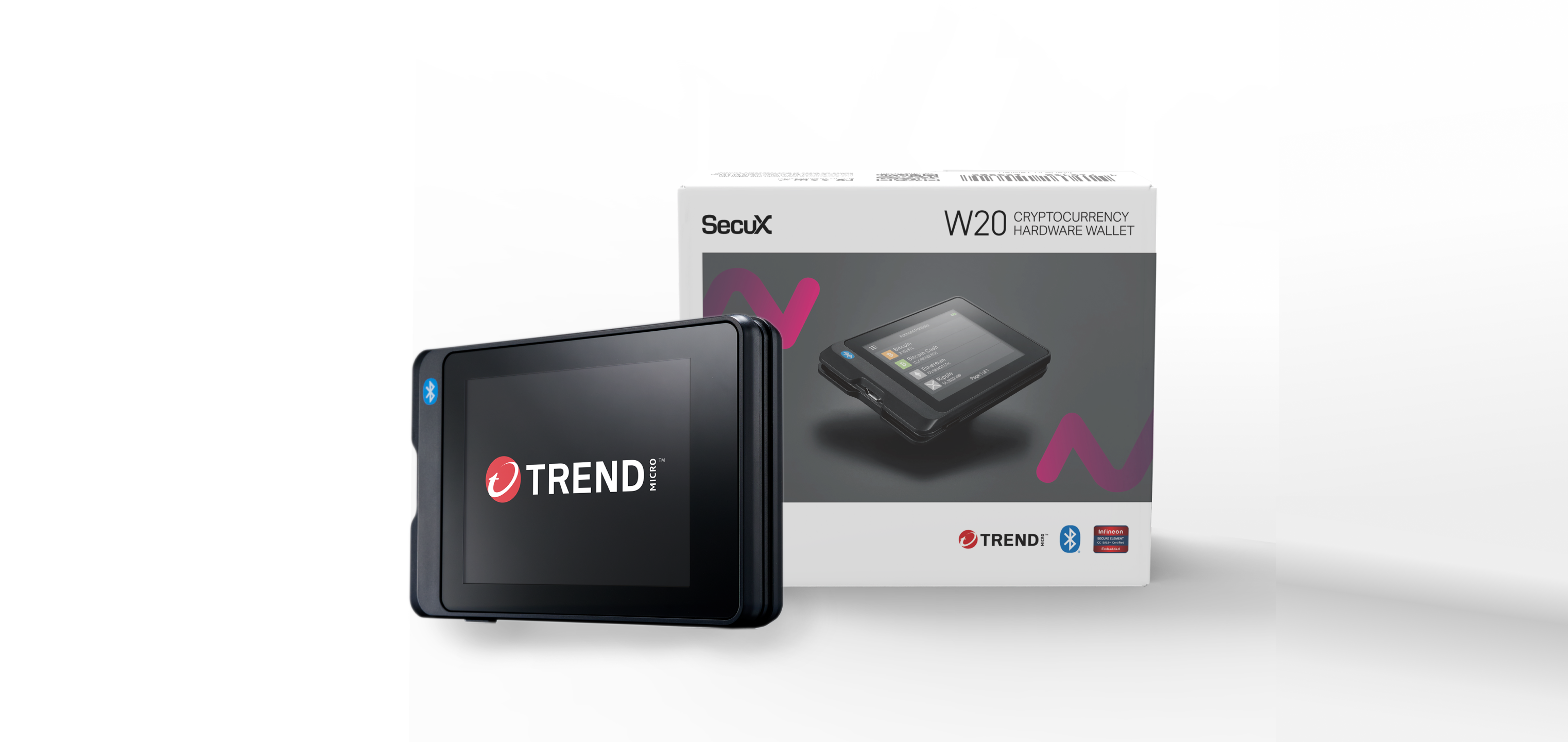 The SecuX W20 X Trend Micro is a testament to the convergence of convenience and advanced technological innovation.
We offer a "Total Security Solution" that houses your private keys offline in an environment impenetrable to online attacks. This uncompromising safety measure is enhanced by a secure PIN protection mechanism. The mechanism is programmed to auto-reset following five unsuccessful attempts, further fortifying your crypto assets.
There is also another layer of added protection – a physical verification protocol. As a second line of defense, users are able to verify and authorize transactions manually on their devices.
Each transaction you make on the SecuX W20 X Trend Micro is protected by a double safety net. Journey into the crypto realm with absolute peace of mind, knowing you're backed by the most comprehensive safety measures in the market.
Conclusion
SecuX W20 X Trend Micro brings with it the next generation of crypto management. The cold wallet ushers in a new layer of safety by blending top-of-the-line security and innovative features.
Get ready to become a part of redefining the digital landscape with Trend Micro ChainSafer's advanced blockchain security, which will ensure the highest level of asset protection while providing an intuitive user experience. Start your smarter, safer, and more seamless crypto journey today with SecuX W20 X TrendMicro.
Related Articles:
What is Secure Element? – Infineon Secure Element
How to Avoid Crypto Phishing Scams?
Store Your Cryptocurrency Safely and Correctly
Sources:
https://shop.secuxtech.com/products/secux-w20-trendmicro
https://www.nexone.io/en-us/campaign
https://www.nexone.io/en-us/product/trend-micro-chainsafer