A definition of minting in the English language means to create something for the first time, and that's exactly what it pertains to regarding NFTs. It's not as difficult as some might assume in a relatively new and tech-related industry. Anyone can mint NFTs if they have the know-how, a crypto wallet, and pick a blockchain and NFT marketplace.
Table of Contents
How to Mint an NFT – It's Easier Than You Think
What is NFT Minting?
NFT minting means the creation of an NFT. The minting process is simple, but it depends on the platform you choose. It can take a great deal of creativity if you plan on making each one from scratch, or you could use an NFT generator that does the heavy lifting for you.
The cost of minting an NFT can vary, but there are a few built-in fees you may have to pay. The platform you choose to mint on will probably charge a fee, and you may have to pay a designer to realize your ideas. Even an NFT generator could require a subscription.
Minting NFTs for Free
There is a way to mint NFTs for free. It's called lazy minting. Although minting is free this way for the creator, it's actually offloaded to the buyer. Lazy minting is offered on some platforms and it means the NFT is minted after the sale, so creators do not have to pay any upfront costs during the making of the NFT collection.
Steps to Minting NFTs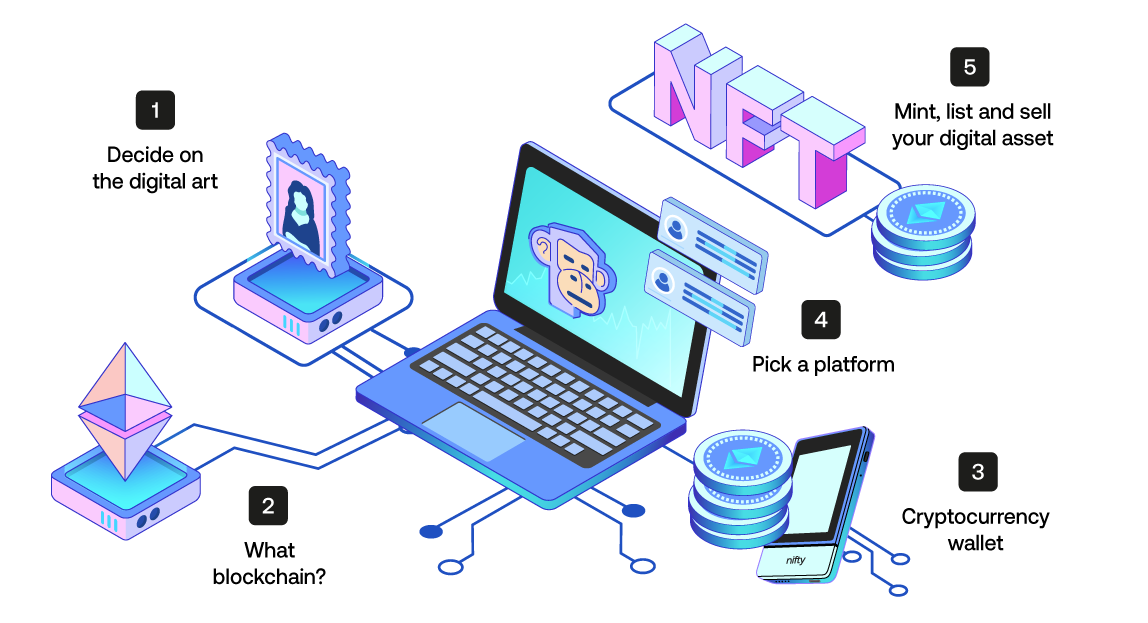 There are a few steps to follow when creating these digital assets. There may be some minor differences depending on how you choose to mint and the platform you pick, but the overall steps remain the same.
Decide on the digital art – Is there a theme or topic you like? Maybe there is a certain style of art you want to pay tribute to. Your collection can be of anything, any type of digital file, whatever speaks to you.
What blockchain? – Blockchain technology is used to secure and build your tokens. Which one will you pick? The Ethereum blockchain is a common one as it is one of the largest blockchains out there. There is also Cardano, Solana, and BSC. However, there are a lot of up-and-coming ones like Algorand and Hedera that deserve attention as well.
Cryptocurrency wallet – The wallet you choose to hold your cryptocurrency and even NFTs have to be compatible with the blockchain you selected above. Don't worry, because SecuX's line of wallets works with hundreds of tokens.
Pick a platform – There are a lot of NFT marketplaces to choose from. You have to make sure the one you pick to mint an NFT supports the blockchain and wallet of your pick.
Mint, list and sell your digital asset – Once you know the platform, create an account and follow the steps to connect your wallet, mint your digital asset and then list it for sale.
Best NFT Marketplaces for Minting NFTs
Picking an NFT marketplace to create and sell your digital artwork can take a lot of vetting. You want the best security, a trusted reputation, and various compatibility options when minting tokens. You want your first NFT mint to be a success, so here are our top suggestions to help you out.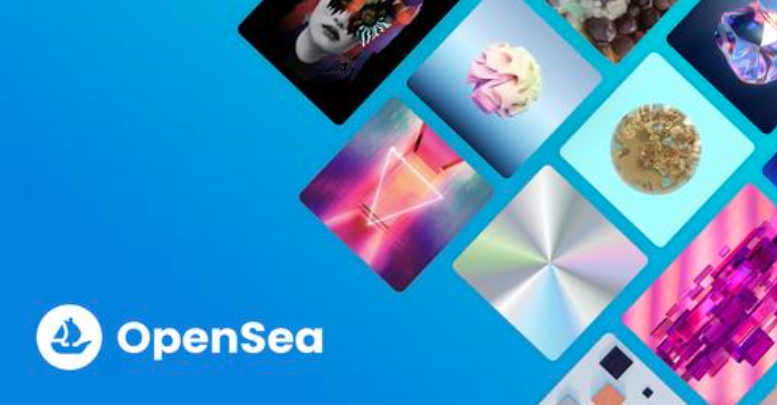 The first big one is OpenSea, because it is the largest NFT marketplace there is right now. It has a high trading volume and an established reputation. If you want to make a quick decision, OpenSea is the way to go. This platform offers lazy minting so there won't be upfront costs for creators. The marketplace also supports a wide range of blockchains and various types of NFTs.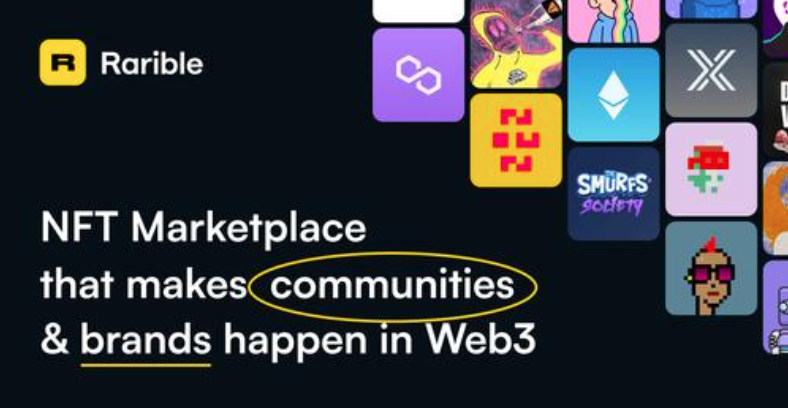 Rarible is another great option that focuses mainly on projects created on the Ethereum blockchain. Rarible offers a nice way for creators to interact with the buyers and to create their own rules surrounding their projects. However, you may have to purchase the platform's native token, RARI, to make transactions easier.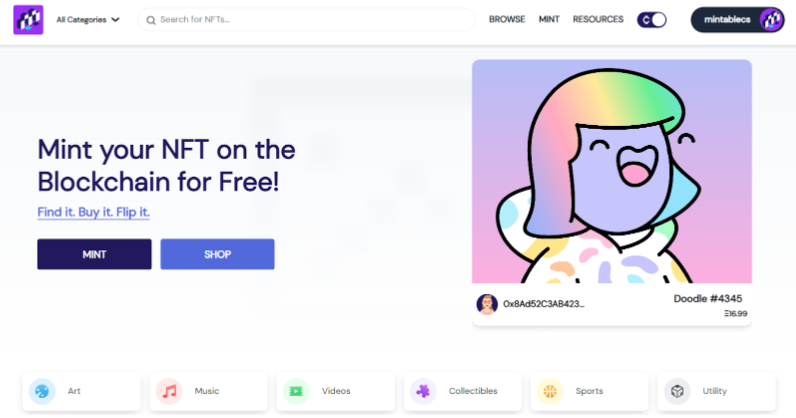 Mintable is a great option for beginners, and the steps to minting tokens are made easy. However, it only supports Ethereum and XRP. You can also choose between gas (traditional minting) or gasless minting. All you need to do is create an account to get started.
Conclusion
Potential NFT creators can rest assured that creating their own NFT projects is easier than ever. Yes, paying gas fees can really be a pain, especially since some costs on some blockchains are sky-high. Now with lazy minting and many blockchains aiming to lower fees, protect and execute smart contract transactions, minting, listing, buying and selling a digital collectible is simple. Just pick the blockchain, platform and right wallet for you.
Related Articles:
Sources: