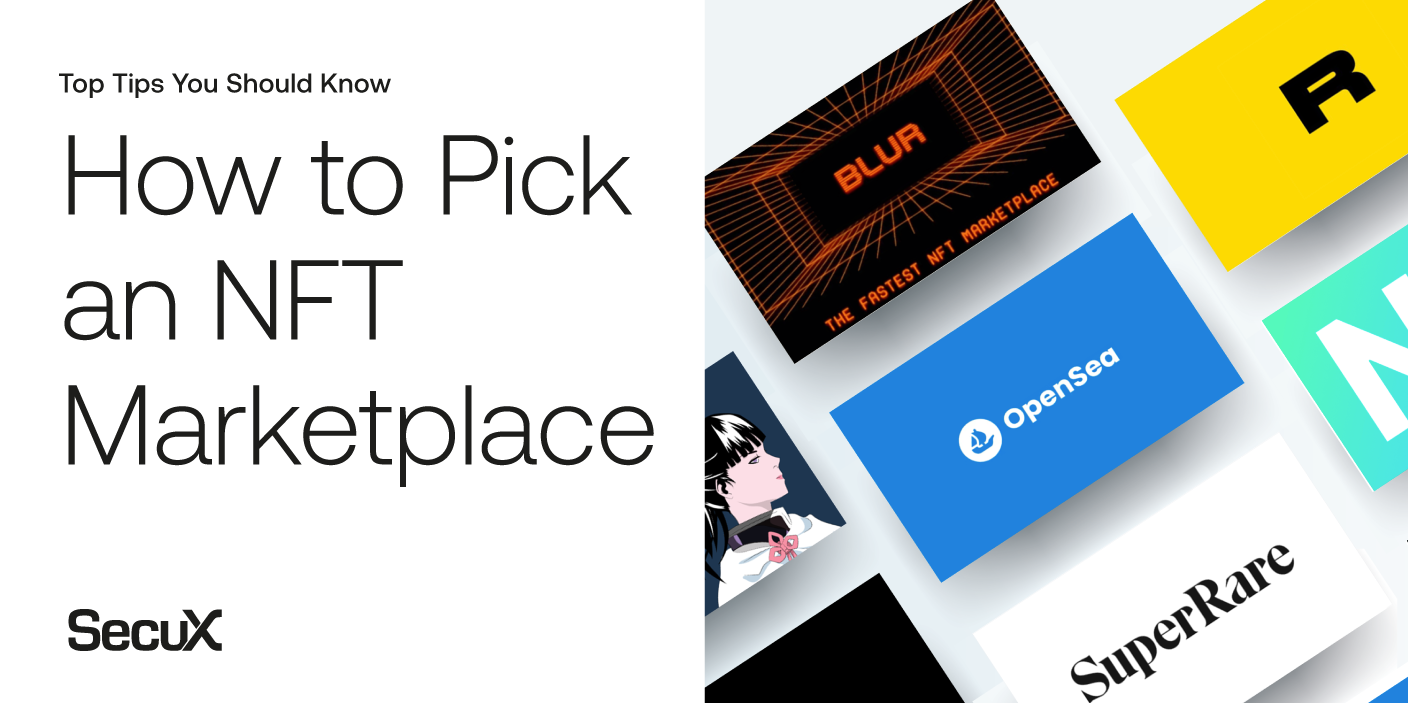 Written by: Jess Lin
Contributor: Anderson Wu
Whether you support non-fungible tokens (NFTs) or not, there is no debate that they have become a vehicle for authenticating and trading unique assets. NFTs are only available on custom marketplaces. The crypto space and NFTs are in a precarious position right now due to the collapse of some crypto platforms, so how should someone pick the right marketplace to buy or sell NFTs?
Table of Contents
NFT Marketplaces Explained
What are NFT marketplaces anyway? Simply put, an NFT marketplace is a digital platform allowing users to buy, sell, and trade digital art among other assets. NFTs are usually digital art, but they can be anything from music to collectibles to even in-game items.
Anyone can create their own NFT collection, and the best NFT marketplaces are platforms where creators can list their digital assets for sale and buyers can browse options for purchase. Not only are such marketplaces useful for listing newly minted collections, but they also serve as a place for secondary sales (resales).
What to Look for When Choosing an NFT Marketplace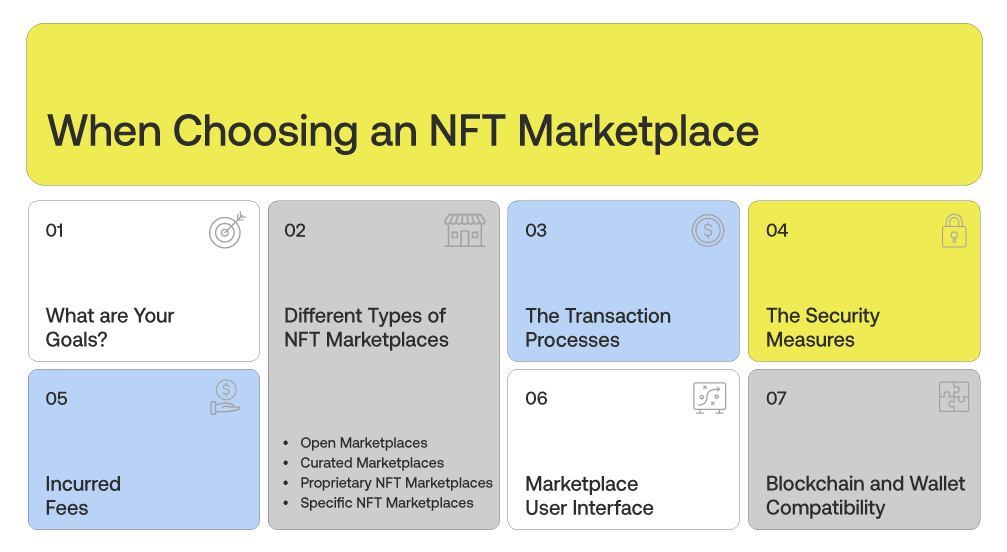 Anything online can carry risks, but you can minimize them by selecting the right NFT marketplace.
What are Your Goals?
The first step is to determine your goals. What do you plan on using the NFT platforms for? Are you someone looking to list your collection for sale, or are you looking for an NFT in particular? Maybe you're just perusing what's available in order to price your collection correctly or see if you can make a profit.
Whatever your goals are, you can better narrow down the top NFT marketplace for you by looking at the various types.
Different Types of NFT Marketplaces
Open Marketplaces
There are open marketplace options, which a lot of the top NFT marketplaces are. OpenSea is the most respected and largest NFT marketplace and allows access to anyone to list their projects and purchase NFTs. Open marketplaces support NFTs minted on their platform, but may or may not support ones that were not – it's best to read the fine print.
Another example of an open NFT marketplace is Blur, also considered an NFT aggregator marketplace, a platform for users to search for multiple types of NFTs all in one place – great for bulk purchases and lower gas fees.
The benefit of open marketplaces is the ease of access for all.
Curated Marketplaces
Next, we have curated marketplaces, which are ones that give authority to the marketplace itself to decide who to let onto their platform. Examples of curated marketplaces include SuperRare and Nifty Gateway.
NFT project creators would have to fill out forms and wait for acceptance into the marketplace. There is a chance that creators looking to list their projects may be rejected, but this further ensures that the collections on curated marketplaces are vetted and less likely to be rug pulls.
Proprietary NFT Marketplaces
Propriety NFT marketplaces are by far the most exclusive type. These types of marketplaces are usually NFT-collection exclusive and only for ones that are created on the website.
Specific NFT Marketplaces
Aside from the type of marketplace, there are also platforms specifically for a certain kind of NFT. As we mentioned, non-fungible tokens encompass a broad selection of items including music, in-game items, and even photography. While most NFT marketplaces support many types of NFTs, there are ones that only manage one.
The Transaction Processes
There are various ways creators can list and buyers can acquire NFTs on the marketplaces. There is the simple listing and buying the asset for the determined price, but some platforms also allow buyers to bid for non-fungible tokens.
Sometimes buyers can give their best offer for an NFT and see if the creator or seller is willing to part with it. Then there are also private sales that not everyone in the general public is privy to. Look at which method you feel the most comfortable with.
The Security Measures
You then have to make sure the platform is safe, because even the best NFT marketplace may be susceptible to security threats.
You can do your research into the marketplace of your choice, or go with the larger ones with established reputations such as OpenSea. The key to identifying a trusted website within the NFT market is by looking at the marketplace's history and community.
Is the storage encrypted and what type of authentication does the market provide for identification? These are all questions that contribute to a platform's security.
Incurred Fees
Then there is the question of cost. Transaction fees, commonly referred to as gas fees, are a crucial consideration for many NFT collectors. The fees not only affect your profit as a creator or seller but as the buyer too.
While lower transaction fees may be more tempting, there is sometimes a significant tradeoff for a cheaper price. For example, lower transaction fees could mean slower speeds and access to features and support. The best way is to weigh the benefits against the drawbacks.
There may also be fees associated with opening a new account on the marketplace and listing the NFT. Again, this all depends on the platform.
Marketplace User Interface
This may be a stipulation that many people forget, but the user interface of a non-fungible token marketplace plays a big role in your selection process. The web3 space is quite new, and old and new users probably wouldn't want to spend the time learning how things work. You want the marketplace of your choice to be intuitive.
Blockchain and Wallet Compatibility
What blockchain and digital wallet does the platform support? Is it compatible with your wallet and the blockchain you support? Big blockchains such as Ethereum and Solana are often supported on these platforms, but a smaller chain may not be. If you have already chosen a blockchain and wallet, then we suggest picking the marketplace that is compatible.
If you haven't landed on a wallet just yet, SecuX has crypto and NFT wallets all with multi-chain support.
How to Stay Safe on NFT Marketplaces

There are some reported NFT scams and rug pulls that are enough to make even the highest risk-taker a little apprehensive, but is it worth giving up on NFTs? Not as long as you know how to stay safe by following these tips.
Conclusion
In order to ensure the safety and security of your assets, picking an NFT marketplace is more than just searching online. You must also do a deeper dive and consider its reputation, security features, fees, and user interface among other factors to find one that's right for your needs. As the NFT market continues to evolve, it's important to stay informed and adapt your strategies to the latest advancements in this exciting new digital economy.
Related Articles:
Sources: